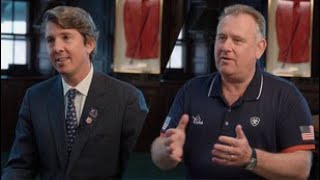 Philip Richter & Will Connell
Funding and Developing US Equestrian Teams
Posted: November 2019
Length: 00:00
Watch as Philip Richter and Will Connell discuss the roles of the United States Equestrian Team Foundation (USET) and the United States Equestrian Federation (USEF) and how both organizations work together to fund and develop high performance programs and pathways.
About This Video
In this video, Philip Richter, Trustee and Treasurer of the United States Equestrian Team Foundation (USET), and Will Connell, United States Equestrian Federation (USEF) Director of Sport, discuss how the two organizations work as partners to fund, develop, and implement high performance programs and pathways. Richter explains the specific roles for each organization and how both the USET and the USEF contribute to helping athletes reach the podium in international sport. While the USET's primary goal is fundraising to support equestrian teams, Connell explains how USEF then utilizes those funds to sustain high performance success, and why this is so critical for developing athlete pathways and for contributing to U.S. Team achievements, in turn inspiring future generations of equestrians.
Key Principles:
USET & USEF
High Performance Programs
Funding & Grants
Making It Happen
About The Expert
Philip Richter & Will Connell
Philip Richter
Tresaurer, USET Foundation
Philip Richter (Wellington, Fla.) is an established businessman, equestrian, and car enthusiast who has played a major role in the success of the United States Equestrian Team Foundation for the past decade. He currently serves as Treasurer for the organization and is a trustee. Richter is a member of the United States Equestrian Federation's Board of Directors and the Hampton Classic Horse Show Board of Directors, and he also serves as Chairman of the Lake Placid Horse Show.
Equestrian sport has always been in integral piece of life for Richter, who grew up on his family's Coker Farm in New York and is the son of trainer Judy Richter. Beginning a competitive show career at age six on ponies, Richter has competed up through the highest levels of amateur jumping and currently shows in the low and high amateur jumping divisions at top competitions around the country.
Outside of his equestrian endeavors, Richter is the President and co-founder of Hollow Brook Wealth Management, a leading wealth management firm based in New York City which manages and advises on capital investments for families, individuals, and foundations. He is a graduate of Boston College and earned his MBA from New York University's Stern School of Business. Richter also is the founder and editor of Turtle Garage, a popular motorcar collector media and blog site.
Will Connell
USEF Director of Sport Programs and Chef de Mission
Will Connell was named as the USEF Director of Sport Programs and Chef de Mission for the U.S. teams in 2014. From 2003 to 2014, Connell served as the British Equestrian Federation Performance Director and Chef de Mission (attending 4 Olympic & Paralympic Games and 3 World Equestrian Games) with responsibility for the coordination and delivery of the UK Sport-Funded World Class Program for the disciplines of eventing, dressage, jumping, and para-equestrian dressage. He served 17 years in the Royal Artillery and was Commanding Officer of the King's Troop RHA, a Mounted unit based in London. Connell served as Chef d'Equipe for the British Young Rider Eventing team from 1997 to 2001, served as a British Eventing Steward, and was Deputy Equestrian Director of Olympia, The London International Horse Show. In January 2013, he was appointed, by Her Majesty, a Member of The Most Excellent Order of the British Empire for services to Equestrian Sport (following the London 2012 Olympic Games).
Connell's lifelong involvement in equestrian sport brings a breadth of experience and leadership to his role with the U.S. teams. Connell is responsible for the administration of all aspects of sport programming at US Equestrian, primarily the eight international disciplines. In addition, Connell serves as the Chef de Mission at the FEI World Equestrian Games, Pan American Games, and Olympic Games and is responsible for oversight of the US Equestrian coaching and sports science & medicine programs, as well as collaborating with and leading the dedicated USEF Discipline Directors and their staff.