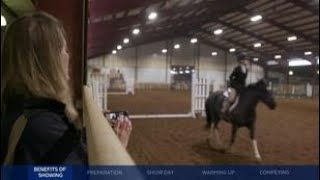 Joyce Brinsfield
Your First Horse Show
Posted: January 2017
Length: 00:00
Watch Ballyhigh Show Stable owner and trainer Joyce Brinsfield discuss the benefits of horse shows and talk through preparation and the competition experience.
About This Video
Joyce Brinsfield, the owner and trainer at Ballyhigh Show Stable, takes you through what you need to know to go to your child's—or your own—first horse show, from getting ready for the competition to putting in a strong performance. She also discusses what children get from showing horses and how to know when they are ready to show.
To learn more about hunter and jumper riding, please visit the United States Hunter Jumper Association and US Equestrian's hunter, hunter/jumping seat equitation, and jumper pages.
Key Principles:
Benefits of Showing
Preparation
Show Day
Warming Up
Competing
Additional Information
About The Expert
Joyce Brinsfield
Owner/Trainer, Ballyhigh Show Stable
Joyce Brinsfield is the owner/trainer at Ballyhigh Show Stable and president of the board of the Kentucky Hunter Jumper Association. The Maryland native began riding at age three and was showing on the A circuit by age 11, competing in the large pony and children's hunter divisions. While a student at the University of Kentucky, Brinsfield competed the mare for whom she would eventually name her operation—Ballyhigh—under the tutelage of Robert Murphy. In 2003, Brinsfield's family purchased the property in Versailles, Kentucky, where Ballyhigh now operates. With Brinsfield instructing, Ballyhigh students have competed successfully in Premier, National, and Regional I rated shows throughout Kentucky, the Midwest, and the Southeast. Brinsfield's students also have qualified for Maclay Regionals, the Washington International Horse Show, the Pennsylvania National Horse Show, and the US Pony Finals, and also have been selected for the United States Hunter Jumper Association Emerging Athletes Program. Brinsfield was the high point trainer at the 2009 Kentucky Hunter Jumper Association Medal Finals, and her students have won the finals many times.
To learn more about Joyce Brinsfield and Ballyhigh Show Stable, please visit the Ballyhigh website or follow the stable on Facebook, Twitter, and Instagram.