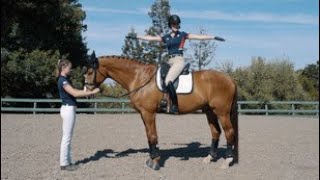 Jennifer Arntsen
Vaulting Exercises to Improve Riding
Posted: January 2019
Length: 00:00
Watch as U.S. Vaulting Team Assistant Chef d'Equipe Jennifer Arntsen demonstrates four vaulting exercises which can be used to improve riding in any discipline.
About This Video
While equestrians are often taught certain exercises when first learning to ride only to forget them as their riding careers progress, Chef d'Equipe of the U.S. Vaulting Team Jennifer Arntsen encourages all riders to take a step back to basics with four vaulting exercises to improve riding. Arntsen explains how these important movements can re-educate certain muscle groups, encourage development of an independent seat, increase body awareness, and enhance a rider's harmony with the horse. Just as effective on a vaulting barrel or on the back of a horse at the halt or walk (with the help of an assistant and/or trainer), Arntsen demonstrates how incorporating regular exercises such as pelvic tilts, trunk rotations, hip rotations, and hip abductions can benefit riders of all ages and abilities in any discipline, as well as how to avoid common mistakes.
Key Principles:
Pelvic Tilts
Trunk Rotations
Hip Rotations
Hip Abductions
About The Expert
Jennifer Arntsen
Assistant Chef d'Equipe, U.S. Vaulting Team
Jennifer Arntsen is a seasoned horse trainer and competitor in vaulting, most recently serving as Chef d'Equipe to the U.S. Vaulting Team at the 2022 FEI World Vaulting Championship in Herning, Denmark. Arntsen earned a Bachelor of Science in Kinesiology from San Jose State University and works in the physical therapy industry, managing clinics and running therapeutic exercises in a rehabilitative setting.
Arntsen got her start in the vaulting world in 2007 working as a longeur and trainer at her local club. A few years later, Arntsen made her debut at a WEG longeing for Ecuador at the 2010 championship. She returned to the WEG in 2014 as the barn manager and head groom for the U.S. vaulting contingent and was Assistant Chef d'Equipe at the 2018 FEI World Equestrian Games at Tryon.
Arntsen grew up in Sunnyvale, Calif., and was actively involved with Pony Club and eventing. Now based in San Diego, Calif., she currently competes in classical dressage at the FEI level and is working towards her gold medal.
Keep up with Arntsen by following her on Instagram.