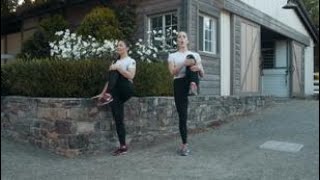 Mari Inouye and Ali Divita
Pre and Post-Ride Exercise and Stretching Routine
Posted: January 2018
Length: 00:00
Watch champion vaulters and wellness professionals Mari Inouye and Ali Divita show you exercises you can add to your pre- and post-ride routine that can help you warm up before riding and cool down afterwards.
About This Video
Champion vaulters Mari Inouye and Ali Divita say a proper warm-up is important for preparing the equestrian athlete, both mentally and physically. And a good cool-down also presents a chance to wind down from riding. In this video, the pair demonstrate both principles in a series of exercises that can benefit your pre- and post-ride routine. Be sure to watch Inouye and Divita's other Learning Center videos: Lower Body Exercises and Upper Body Exercises. Scroll down to see additional resources and read about the experts.
Key Principles
Three Warm-Up Exercises
Cooling Down With Static Stretches
Additional Information
About The Expert
Mari Inouye and Ali Divita
Champion vaulting athletes
Health and wellness professionals Mari Inouye and Ali Divita are the vaulting athletes behind The Mind Body Vault, an online fitness program tailored specifically for equestrian athletes.
Inouye, a native of Honolulu, Hawaii, is the winner of multiple national and World Championship vaulting medals, including a gold medal at the 2010 Alltech FEI World Equestrian Games™ in Lexington, Ky. An experienced equestrian and gymnast, she is now a health coach and certified personal trainer.
Divita, a two-time national champion vaulting athlete in the U.S. and WEG competitor, is a yoga instructor and integrative nutrition health coach. In addition to her career as a high-level vaulter, Divita also has cross-trained in rowing and gymnastics.
In addition to their online and in-person training programs, Inouye and Divita also are clinicians