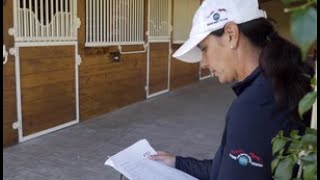 Allison Brock
Tips on Visualizing Your Dressage Test
Posted: May 2017
Length: 00:00
Watch Olympic dressage rider Allison Brock's expert visualization techniques for your dressage test.
About This Video
Olympic medalist Allison Brock discusses the importance of "seeing" and "feeling" your dressage test even before you enter the ring, and she teaches specific visualization techniques that can help you focus and ride your test more effectively.
For more information about the sport of dressage, please visit the United States Dressage Federation and US Equestrian's dressage page.
Key Principles:
Memorize
Visualize
Walk the Test
Watch Video
Additional Information
About The Expert
Allison Brock
Olympic Dressage Medalist
Allison Brock, riding Rosevelt, was part of the bronze medal-winning U.S. Dressage Team at the 2016 Olympics in Rio de Janeiro—the first time the U.S. Dressage Team had won an Olympic medal since 2004. She also is a United States Dressage Federation gold and silver medalist. Brock's major victories with Rosevelt include winning the 2014 CDI3* Grand Prix and Grand Prix Special at Dressage at Devon; the 2015 CDI-W Grand Prix and CDI3* Grand Prix at the Adequan Global Dressage Festival 1 and the Adequan Global Dressage Festival 7, respectively, and earning a team gold at the Stillpoint Farm Nations Cup CDIO3*; and the CDI4* Grand Prix Special and CDI3* Grand Prix and Grand Prix Special at the Adequan Global Dressage Festival 12. Brock is based in Keswick, Virginia, and Wellington, Florida. The Hawaii native has done it all: before becoming an Olympic dressage competitor, she also show-jumped, rode Western, and was active in her Pony Club. She moved to the mainland at age 17 to pursue her dressage career.
Learn more about Allison Brock by visiting her website or following her on Facebook, Twitter, or Instagram. Photo of Allison Brock by Elina Lusenti.