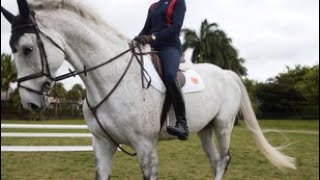 Anne Kursinski
Riding Without Stirrups
Posted: November 2017
Length: 00:00
Watch Olympian and Show Jumping Hall of Fame member Anne Kursinski talk about riding without stirrups
About This Video
Five-time Olympian and 2017 Show Jumping Hall of Fame inductee Anne Kursinski, riding Market Street, Inc.'s Caspar's Lasino, demonstrates her tips and exercises for riding without stirrups and discusses the many benefits of going without your stirrups while you ride, including improved balance.
For more information about show jumping, visit the United States Hunter Jumper Association and US Equestrian's jumping page.
Key Principles:
Getting Comfortable
Baby Steps
Getting Centered
Transitions
Jumping and Halting
Additional Information
About The Expert
Anne Kursinski
Olympic medalist and Show Jumping Hall of Famer
Anne Kursinski is a show jumping legend. The five-time Olympian earned two team silver medals—with Eros at the1996 Atlanta Games and with Starman at the 1988 Seoul Games, where she also tied for fourth individually. She was perhaps best known for her incredibly consistent brilliance with Starman, her mount for three FEI Nations Cup™ wins in 1987, the team silver medal in Seoul, and her Grand Prix of Aachen win at the CHIO in Aachen in 1991 – making her only the second woman to ever win the prestigious event. Kursinski also was the first American rider to win the Grand Prix of Rome (1983) aboard Livius. She also has been a member of three U.S. Teams for the FEI World Equestrian Games™(WEG). She was inducted into the Show Jumping Hall of Fame in 2017.
In 1988 and 1992, Kursinski was named the American Horse Shows Association's Horsewoman of the Year, and in 1995 she was named Equestrian of the Year, among countless other accolades. She is a United States Hunter Jumper Association (USHJA) clinician, a member of the USHJA executive committee, the United States Equestrian Team's board of trustees, and US Equestrian's board of directors. She is Assistant Chef d'Equipe and Development Technical Advisor for the U.S. Show Jumping Development program and was a selector for the 2014 WEG bronze medal-winning U.S. team in Normandy, France and the 2016 Rio Olympics' silver medal-winning U.S. team. She has also been an analyst on show jumping telecasts.
She also is the author of "Anne Kursinski's Riding and Jumping Clinic," and, in 2015, she launched the online instructional site "Anne Kursinski Riding and Jumping Mentor."
Follow Anne Kursinski via her website and on Facebook, Twitter, Instagram, and YouTube.