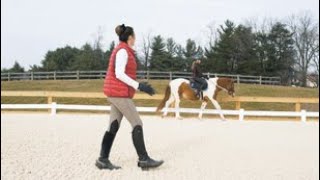 Rebecca Hart, Muriel Forrest, Michel Assouline
Pathway to Para-Equestrian Dressage
Posted: April 2018
Length: 00:00
Watch our panel of experts discuss what is involved in the sport of para-equestrian dressage and outline the pathway for athletes to become involved in local, national, and international competition through resources such as the nationwide network of USEF/USPEA Centers of Excellence.
About This Video
In this video, three-time Paralympian Rebecca Hart shares her life-changing experience as a rider and what it has meant to her to participate as a high-performance athlete at the international level. Hart also explains how other aspiring competitors can use US Equestrian resources to pursue their goals in para-equestrian sport. Muriel Forrest, Executive Director of Wheatland Farm, describes how US Equestrian Centers of Excellence not only promote the physical and mental benefits of horses and therapeutic riding for those individuals affected by a disability, but also how these Centers provide a pathway for athletes who are interested in participating in the sport at the local, national, and international levels of para-equestrian dressage competition. In addition, Head of Para-Equestrian Dressage Coach Development and High-Performance Consultant Michel Assouline outlines the official grading system for para-equestrian dressage and the steps riders should take to prepare for competition.
To learn more about the sport of para-equestrian dressage, visit the United States Para-Equestrian Association website and US Equestrian's Para-Equestrian Dressage page.
About The Expert
Rebecca Hart, Muriel Forrest, Michel Assouline
Paralympian Rebecca "Becca" Hart began riding at age 10 and has risen to the upper echelon. She was the USEF National Para-Equestrian Champion in 2006, 2008, 2009, 2010, 2012, and 2014. She has been a member of the U.S. Para-Dressage Team for the Paralympics in 2008 in Hong Kong (where she scored highest among U.S. Para-Equestrian riders), in 2012 in London (where she was Team Captain and the highest-scoring member of the U.S. Para-Dressage Team), and in 2016 in Rio de Janeiro. She also has competed in the 2010 Alltech FEI World Equestrian Games in Lexington, Kentucky, and in the 2014 WEG in Normandy, France. In 2015, she was the individual grand champion at the Adequan Global Dressage CPEDI3*, leading the team to champion honors, too. Hart also has served as a youth consultant for the USEF. She was born with a rare progressive genetic disease called familial spastic paraplegia, which can cause partial paralysis and affect joints, muscles, and motor development. As an adult, she is most affected in the muscles and joints below her waist. In addition to riding in para-dressage shows, she also is an experienced competitor at dressage shows for the able-bodied. Hart is based in Unionville, Pennsylvania, and Wellington, Florida.
To learn more about Becca Hart, please visit her website and follow her on Facebook and Instagram.
Muriel Forrest is the Executive Director of Wheatland Farm Equestrian Center in Purcellville, Va. Wheatland Farm is a PATH International therapeutic riding and equine-assisted activities and therapies program and a USEF/USPEA Para-Dressage Center of Excellence (COE). Wheatland Farm is a host site for the USEF Coach Certificate Pilot Program in Para-Equestrian Dressage with Michel Assouline.
Forrest is the mother of eight children, three of whom are profoundly disabled. Having ridden as a child and young adult in Ireland, Forrest sought out therapeutic riding services for her own children, and is now delighted to welcome the community to participate in the programming at Wheatland Farm. Forrest teaches therapeutic riding students and typically developing young riders.
To learn more about Forrest and Wheatland Farm, please visit www.wheatlandfarm.org and follow Wheatland Farm on Facebook, Twitter, and Instagram.
Michel Assouline came to US Equestrian in 2017 as Head of Para-Equestrian Coach Development and the High Performance Consultant. Originally from the France, Assouline worked as head coach to the multi-medal winning British para-equestrian dressage program for nearly 12 years. Along with Chef d'Equipe Kai Handt and the Director of Para-Equestrian Dressage Laureen Johnson, he is preparing the U.S. athletes for major events, like the 2018 FEI World Equestrian Games™ in Tryon, N.C.
Assouline also leads the development and implementation of a trainer/coach development program, working closely with the USEF/USPEA Para-Dressage Centers of Excellence. His work aims to grow and develop para-equestrian dressage in the U.S., reaching into the therapeutic riding community and demonstrating the competition-based opportunities provided by para-equestrian dressage with the COEs.
To learn more about Michel Assouline, please visit www.assoulinedressage.com and follow him on Facebook.