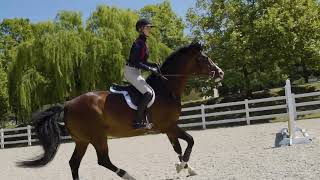 Hope Hobday Glynn
Handy Hunter Exercises
Posted: December 2018
Length: 00:00
Watch international hunter derby rider Hope Hobday Glynn demonstrate how practicing handy hunter exercises can not only create a rewarding jumping experience for both horses and riders, but also help them be better prepared for the show ring. This video is brought to you by Ariat.
About This Video
Handy hunter classes are a popular choice in hunter divisions, but they can also present challenging jumping options. By simply utilizing three cones and couple of jumps, international hunter derby rider Hope Hobday Glynn shows how riders and horses can easily practice several handy hunter exercises right at home, build upon their skills, and develop the confidence needed to tackle those challenges once in the show ring. Aboard Fandango HX owned by Karen Trione, Glynn demonstrates how utilizing several different track options around the end of the arena to a jump can dramatically vary the degree of difficulty of the exercise, while also being easily customizable to a rider's and horse's abilities, create a positive and encouraging jumping experience, and avoid common mistakes.
Key Principles:
Overview
Outside Option
Option One
Option Two
Handy Option
This video is brought to you by Ariat.
Additional Information
About The Expert
Hope Hobday Glynn
Owner/trainer of Sonoma Valley Stables
Hope Hobday Glynn is the owner/operator of Sonoma Valley Stables in Petaluma, California and trainer at Wild Oaks Stables in Santa Rosa, California. She is also ranked as a top-10 USHJA International Hunter Derby rider. She has been an "R" judge for US Equestrian for the last 20 years. A lifelong horsewoman, her mother taught her how to ride as a child and exposed her to all aspects of horsemanship and horse care.
After she sustained a broken femur at 16 years old, Glynn immersed herself in areas of the equine industry outside of riding. She found another calling coaching and training green horses. Glynn says she is most proud of bringing up green or challenging horses in her training program and successfully helping them reach their full potential.
Glynn is a horse show mom and a competitive triathlete. She graduated from University of California Davis with a double major in political science and communications and marketing.
Keep up with Glynn at www.sonomavalleystables.com and follow her on Facebook, Twitter, Instagram, and YouTube.