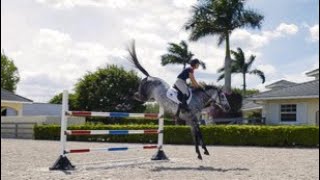 Beezie Madden
Gaining Control After the Fence
Posted: February 2018
Length: 00:00
Watch Olympic gold medalist Beezie Madden demonstrate a series of exercises to help riders regain control immediately after landing from a fence. This video is brought to you by NetJets.
About This Video
Many riders focus on gaining control approaching a fence, but in today's competitions--with their tight time requirements, small venues, and highly technical courses--it's also important to gain control quickly after a jump. As two-time Olympic gold medalist Beezie Madden puts it, "The landing from one fence is already the approach to another fence."
For more information about show jumping, visit the United States Hunter Jumper Association and US Equestrian's jumping page.
Key Principles
Halt After the Jump
Sitting Trot Leg Yield
Add Haunches-In
Lead Change
Putting it all Together
Madden recommends working with your trainer to try these exercises.
This video is brought to you by NetJets.
Additional Information
About The Expert
Beezie Madden
Olympic Gold Medalist
Elizabeth "Beezie" Madden grew up in Wisconsin, where her parents Joe and Kathy Patton owned a horse farm, and she has competed at the grand prix level since 1985. She became the first female athlete to earn more than $1 million in show jumping and, in 2004, she became the first woman and the first American rider to be ranked among the top three on the sport's world rankings. A four-time USEF Equestrian of the Year, Madden also is a four-time Olympic medalist. With her mount Authentic, she was on the gold medal-winning U.S. teams at the 2004 Athens Olympic Games and again at the 2008 Beijing Olympics, where she also won an individual bronze medal. Most recently, she was part of the silver medal-winning U.S. team at the 2016 Olympic Games in Rio de Janeiro with Cortes 'C.' Her numerous accomplishments also include team and individual silver medals at the 2006 FEI World Equestrian Games™ in Aachen with Authentic, as well as individual and team bronzes at the 2014 FEI World Equestrian games in Normandy with Cortes 'C.'
Madden also won the 2013 FEI World Cup Finals™ in Gothenberg, Sweden, on Abigail Wexner's Simon, who went on to be named that year's USEF International Horse of the Year.
Madden and her husband John operate John Madden Sales in Cazenovia, N.Y. Follow Madden on Twitter, Facebook, and Instagram.
Photo: Getty Images