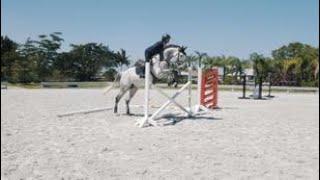 Laura Kraut
Exercises for Quick Horses
Posted: December 2017
Length: 00:00
Watch Olympic gold medalist Laura Kraut demonstrate exercises to help keep a horse from rushing to a fence during a jumping course. This video is brought to you by NetJets.
About This Video
If you have a horse or pony that gets a too quick heading toward a jump, there are some exercises that can help improve his focus and responsiveness to the rider. In this video, Olympic gold medalist Laura Kraut gives her top tips for slowing the pace and keeping good rhythm. She cautions that changing a horse's instinct to quicken for a fence isn't a quick fix: be patient, repeat the exercises, and don't forget to consider how you might unwittingly be encouraging the horse to quicken, too. In the video, Kraut is riding Confu owned by St. Bride's Farm.
Key Principles
Analyze Yourself
Transitions
Adding A Stride
Trot Jumps
Canter Fence
Tips
This video is brought to you by NetJets.
Additional Information
About The Expert
Laura Kraut
Olympic gold medalist
Show jumping athlete Laura Kraut has represented the United States at Olympic Games, World Championships, and Nations Cup competitions for more than two decades. She went to her first Olympic Games in Barcelona in 1992 as an alternate and made her Olympic debut at the 2000 Games in Sydney. In 2008, riding Cedric, she won the USEF Olympic Games Selection Trials and went on to be part of the gold medal-winning U.S. team at the Olympic Games in Hong Kong. She also earned a team silver medal in the 2006 FEI World Equestrian Games™ in Aachen, and she has ridden in several FEI World Cup™ Finals and on numerous Nations Cup teams, including a recent team silver in a tie with Switzerland at the FEI Nations Cup™ CSIO5* Aachen in July 2017 and, that August, a gold medal at CSIO5* Dublin with a double-clear performance.
Kraut is based in Florida and Great Britain. Follow her on Facebook, Twitter, and Instagram @LauraKraut.
Photo: Elena Lusenti