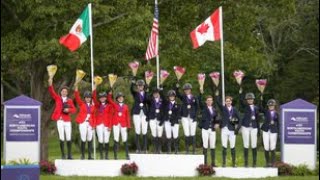 Will Connell
Equestrian Team Competition
Posted: May 2019
Length: 00:00
Watch Will Connell, US Equestrian's Director of Sport, talk about team competitions with a focus on youth, how to participate, what makes these opportunities special, and how they can have a positive impact on a rider's long-term career. This video is brought to you by Gotham North.
About This Video
For generations of equestrians, the Adequan/FEI North American Youth Championships presented by Gotham North (FEI NAYC) have been not only a competitive goal, but, for some, a critical step towards successful future careers in the saddle. So what makes the NAYC so special? US Equestrian's Director of Sport, Will Connell, explains that the NAYC may be the first opportunity for a junior or young rider to participate in a team environment under international rules – the same format that team members for an FEI World Equestrian Games™ or Olympic Games would experience. Connell outlines the importance of communication and understanding of FEI rules and selection procedures, and how these international regulations differ from the national competitions many riders are used to. He goes on to describe how the various discipline pathways work for competitors in dressage, jumping, and eventing, and he provides a summary of the actual FEI NAYC competition and how riders can prepare and pursue qualification for this prestigious event. In conclusion, Connell explains how a multitude of top international riders have discovered that youth team competition can be a vital step on the pathway to senior team success, and why it's such an unforgettable learning experience for juniors and young riders.
Key Principles:
Competing on a Team
Starting the Pathway
FEI NAYC
Getting to FEI NAYC
Beyond FEI NAYC
This video is brought to you by Gotham North.
About The Expert
Will Connell
USEF Director of Sport Programs and Chef de Mission
Will Connell was named as the USEF Director of Sport Programs and Chef de Mission for the U.S. teams in 2014. From 2003 to 2014, Connell served as the British Equestrian Federation Performance Director and Chef de Mission (attending 4 Olympic & Paralympic Games and 3 World Equestrian Games) with responsibility for the coordination and delivery of the UK Sport-Funded World Class Program for the disciplines of eventing, dressage, jumping, and para-equestrian dressage. He served 17 years in the Royal Artillery and was Commanding Officer of the King's Troop RHA, a Mounted unit based in London. Connell served as Chef d'Equipe for the British Young Rider Eventing team from 1997 to 2001, served as a British Eventing Steward, and was Deputy Equestrian Director of Olympia, The London International Horse Show. In January 2013, he was appointed, by Her Majesty, a Member of The Most Excellent Order of the British Empire for services to Equestrian Sport (following the London 2012 Olympic Games).
Connell's lifelong involvement in equestrian sport brings a breadth of experience and leadership to his role with the U.S. teams. Connell is responsible for the administration of all aspects of sport programming at US Equestrian, primarily the eight international disciplines. In addition, Connell serves as the Chef de Mission at the FEI World Equestrian Games, Pan American Games, and Olympic Games and is responsible for oversight of the US Equestrian coaching and sports science & medicine programs, as well as collaborating with and leading the dedicated USEF Discipline Directors and their staff.