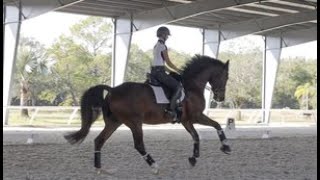 Laura Graves
Dressage: How to Teach a Flying Change
Posted: July 2017
Length: 00:00
Watch as Olympic dressage rider Laura Graves shares steps to teach your horse an accurate flying lead change, starting with simple transitions.
About This Video
Laura Graves, a member of the U.S. Olympic Dressage Team that won a bronze medal at the 2016 Rio de Janeiro Games, talks you through step-by-step instructions to teach your horse a flying change. Graves demonstrates the exercises, from simple transitions to flying changes to the more advanced tempi changes, aboard Fizau, owned by Susan Shattuck-Fryett, and on her 2016 Olympic mount Verdades.
For more information about the sport of dressage, please visit the United States Dressage Federation and US Equestrian's dressage page.
Key Principles:
Simple Changes
Control Position
Flying Change
Tempi Changes
Tips
Additional Information
About The Expert
Laura Graves
Olympic Dressage Medalist
Laura Graves was a hairstylist in Boston in 2008 when she decided to turn to dressage full time with Verdades, whom her family bought from the Netherlands when he was six months old. Together, Graves and the headstrong, sensitive "Diddy" rose through the levels of competition and then captured the reserve championship, behind three-time Olympian Steffen Peters, at The Dutta Corp./USEF Grand Prix Dressage National Championship in 2014. Graves and Verdades competed on the U.S. Dressage Team at the 2014 Alltech FEI World Equestrian Games in Normandy, France, where they finished fifth in the Grand Prix Freestyle. In 2015, they earned an individual silver medal and team gold medal at the Pan American Games and returned, this time to win, at The Dutta Corp./USEF Grand Prix Dressage National Championship. In 2016, Graves and Verdades were team and individual gold medalists at the Stillpoint Farm FEI Nations Cup at the Adequan Global Dressage Festival of Champions 12. They also were members of the bronze medal-winning U.S. Dressage Team at the 2016 Olympic Games in Rio de Janeiro.
To learn more about Laura Graves, please visit her website or follow her on Twitter or Instagram.