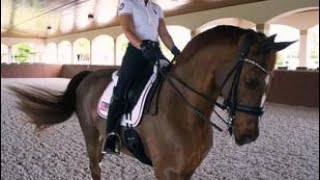 Kasey Perry-Glass
Dressage: Five Tips for Riding a Perfect Centerline
Posted: January 2017
Length: 00:00
Watch Olympic dressage medalist Kasey Perry-Glass give her top five tips for riding a perfect centerline in a dressage test.
About This Video
Riding a centerline in a dressage test can be difficult, but U.S. Olympic dressage rider Kasey Perry-Glass gives her top five tips to riding a perfect centerline, which include using your corners, looking up and at the judges, riding your horse through your reins and legs, halting at different locations, and executing perfect halts.
For more information about the sport of dressage, please visit the United States Dressage Federation and US Equestrian's dressage page.
Key Principles:
Use Your Corners
Look Up and at the Judges
Ride Through Your Reins and Legs
Halt at Different Locations
Execute Perfect Halts
Additional Information
About The Expert
Kasey Perry-Glass
Olympic Dressage Medalist
Dressage rider Kasey Perry-Glass made her Olympic debut at the 2016 Olympic Games in Rio de Janeiro, where she and her mount Dublet were members of the bronze medal-winning U.S. Dressage Team. She began riding at age five when she joined her sisters and mother at a small community barn in Northern California training with Carmela Richards. She soon saw how much fun her friends were having jumping, discovered the discipline of eventing, and went on to train with eventing Olympian Gina Miles. Perry-Glass became more interested in dressage in high school when she was training with Gina Duran at Topline Training. She ultimately decided to pursue dressage full-time and began training with ENE French Riding Academy graduate, Christophe Theallet. Perry-Glass pursued her riding as she attended and graduated from California State University Sacramento with a degree in business entrepreneurship. Now working closely with Olympian Debbie McDonald, Perry-Glass divides her time between her Wellington, Fla., winter base and Hailey, Idaho, at the Thomas family's River Grove Farm.
To learn more about Kasey Perry-Glass, please visit her website and follow her on Facebook or Twitter.