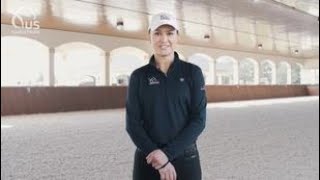 Adrienne Lyle
Dressage Basics: Straightness Exercises
Posted: January 2017
Length: 00:00
Watch as Olympic dressage rider Adrienne Lyle gives exercises for keeping your horse straight and listening to your aids, and for maintaining horse balance, whatever your riding discipline.
About This Video
The ability to ride straight is key to control and movement at all levels—and not just in dressage riding and competition, but also in jumping and many other equestrian disciplines. Olympic dressage rider Adrienne Lyle details four exercises for riders in a variety of disciplines to improve your horse's straightness and enhance his balance and responsiveness.
For more information about the sport of dressage, please visit the United States Dressage Federation and US Equestrian's dressage page.
Key Principles:
Common Mistakes
Exercises to improve straightness
Build up to the Flying Change
Additional Information
About The Expert
Adrienne Lyle
Olympic Dressage Rider
Adrienne Lyle was born and raised on Whidbey Island, Washington, and started riding Western—she took her first childhood dressage lesson in a Western saddle. Lyle switched to English after joining her local Pony Club chapter and by age 13 was competing in lower-level dressage shows. She was a member of the medal-winning teams at the 2002 North American Junior Dressage Team Championships and the 2004 North American Junior and Young Rider Championships. Four years later she and Wizard captured the United States Equestrian Federation Young Adult "Brentina Cup" Dressage Championship, among other notable victories. More recently, Lyle has scored important victories in CDI4* and 5* competition. She and Wizard were members of the U.S. Dressage Team at the 2012 London Olympic Games and also competed in the 2014 Alltech FEI World Equestrian Games in Normandy, France, where the team finished fourth. Lyle's cousin, Maya Black, is an accomplished three-day eventer who finished third aboard Doesn't Play Fair at the 2016 Rolex Kentucky Three-Day Event presented by Land Rover.
To learn more about Adrienne Lyle, please visit her website or follow her on Facebook and Twitter.