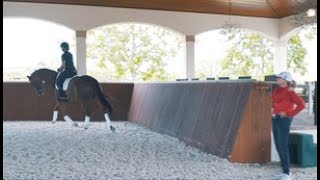 Debbie McDonald
Dressage Basics: Riding Proper Corners
Posted: February 2017
Length: 00:00
Watch Olympian Debbie McDonald's top tips for riding dressage corners more effectively.
About This Video
U.S. Dressage Chef d'Equipe Debbie McDonald discusses how to ride corners properly in a dressage test, without overbending or making other common mistakes.
For more information about the sport of dressage, please visit the United States Dressage Federation and US Equestrian's dressage page.
Key Principles:
Common Mistakes
Breaking the Corner Down
Walking Through the Corner
Halting in the Corner
Putting It All into Practice
Additional Information
About The Expert
Debbie McDonald
U.S. Dressage Chef d'Equipe and Olympic Dressage Medalist
Olympian Debbie McDonald, U.S. Dressage Chef d'Equipe, is a former show jumper who switched to dressage in 1990. McDonald has competed in the Olympics and now trains and teaches at the Thomas family's River Grove Farm located in Hailey, Idaho. McDonald and the Thomases' great mare Brentina formed one of the sport's most celebrated partnerships. In 1999, they captured individual and team gold at the Pan American Games in Mexico, for which McDonald was named the United States Equestrian Federation's Equestrian of the Year and the United States Olympic Committee's Female Equestrian Athlete of the Year. Also with Brentina, in 2003 McDonald became the first American dressage rider to win the FEI World Cup Dressage Final; the following year, the pair won a team bronze medal at the Olympic Games in Athens and finished fourth individually. McDonald and Brentina also earned team silver and team bronze at the 2002 and 2006 FEI World Equestrian Games in Jerez and Aachen, respectively. Brentina received the Farnam/Platform USEF Horse of the Year award in 2005. As the U.S. Dressage Technical Advisor and Chef d'Equipe, McDonald is a key player in sustaining success for dressage in the United States.