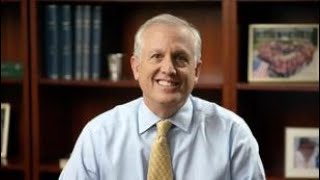 Murray Kessler
Welcome to the US Equestrian Federation
Posted: January 2017
Length: 00:00
Watch US Equestrian Federation President Murray Kessler talk about the new and exciting plans for US Equestrian, your home for equestrian sports.
About This Video
US Equestrian Federation President Murray Kessler discusses the many new benefits of the new US Equestrian. US Equestrian (formerly known as USEF) serves as the National Governing Body for equestrian sports in the United States, representing 29 breeds and disciplines and sanctioning more than 2,500 competitions annually. US Equestrian's mission is to bring the joy of horse sports to as many people as possible. US Equestrian's vision is to provide access to and participation in equestrian sports at all levels while ensuring fairness, safety and enjoyment.
Key Principles:
US Equestrian is a National Governing Body
US Equestrian Represents 29 Breeds and Disciplines
US Equestrian Sanctions 2,500 Competitions Annually
Our Vision: Bring the Joy of Horse Sports to as Many People as Possible
Our Mission: To Provide Access to and Increase Participation in Equestrian Sports at All Levels by Ensuring Fairness, Safety, and Enjoyment
Bringing the Joy
New Logo
Membership Value
Fairness and Safety
Collaboration with Affiliates
Licensed Officials
Elite Athletes
Additional Information
About The Expert
Murray Kessler
President, US Equestrian Federation
Murray Kessler became president of US Equestrian in 2017. He comes to this position with extensive experience in horse sports, governance, and business. He has been involved in horse sports for over 45 years at every level, from local grassroots competitions, to national hunter/jumper competitions, to the 2012 Olympic Games in London, where his daughter Reed rode for the United States Equestrian Team in show jumping. Kessler has served on the boards of the North American Riders Group, the USET Foundation, and the United States Equestrian Federation. At US Equestrian, he has chaired the Governance Committee, led the strategic planning process, and served on the Mileage Rule Revision Task Force. Kessler also is a director on the board of Reynolds-American, Incorporated. Prior to that, he spent 15 years as chairman of the board and chief executive officer of two Fortune 500 companies. He has extensive experience in financial, audit, governance, management, marketing, sponsorship, strategic planning, and operational expertise.