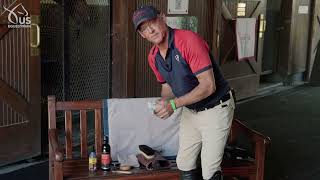 Will Simpson
Pro Tips: Boot Cleaning with Will Simpson
Posted: January 2023
Length: 00:00
Watch as Will Simpson, Professional Show Jumper and Olympian, walks through the best methods of cleaning and caring for your boots. This video is brought to you by Ariat and features the new Ravello boots.
About This Video
To keep your riding boots in top condition, it is important to have a regular cleaning routine. Nobody knows that better than Olympic gold medalist Will Simpson. In this video, Will highlights the supplies you need to successfully clean boots and demonstrates the five steps he takes to clean his Ariat Ravello tall boots. The five steps include preparing the supplies, cleaning the boots, conditioning the boots, applying the polish, then buffing the boots. Will goes on to share a few of his own tips on how to keep boots in top condition and ready for the competition ring.
To learn more about the Ravello Tall Riding Boot by Ariat, visit ariat.com/ravello.
Additional Information
About The Expert
Will Simpson
Professional Show Jumper and Olympian
Will Simpson is a show jumper widely recognized for his pivotal role in helping the U.S. Jumping Team capture the gold medal at the 2008 Beijing Olympics. Will has piloted many successful trips at the highest level of competition and has represented the U.S. in five World Cup Finals. To date, Will has won more than 75 Grand Prix events. Outside of the show ring, Will has served as President for West Coast Active Riders and was a board member of the North American Riders Group. He has been a long-time advocate and board member of the Compton Junior Posse, now known as the Compton Jr Equestrians, a philanthropic organization servicing underprivileged, inner-city children. Based in Ocala, Florida, Will frequently competes, continues to train his competition horses, and enjoys working with riders of all levels.