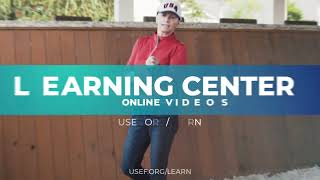 US Equestrian
Learning Center Promotional Video
Posted: February 2018
Length: 00:00
Watch and share this promotional video that encompasses the videos that you can watch in the US Equestrian Learning Center
About This Video
The US Equestrian Learning Center is your source for knowledge and information: a vast library of educational videos featuring elite athletes, trainers, grooms, veterinarians, and industry experts—plus extra resources. With new videos released every other Monday, the Learning Center is one of the many benefits of being a member of US Equestrian. Join today!
Additional Information
About The Expert
US Equestrian
National Governing Body for Equestrian Sports
US Equestrian recognizes 18 disciplines, including the Olympic and Paralympic equestrian disciplines, and 11 breeds of horses and ponies. The organization also sanctions more than 2,500 competitions annually. US Equestrian's mission is to bring the joy of horse sports to as many people as possible. US Equestrian's vision is to provide access to and participation in equestrian sports at all levels while ensuring fairness, safety and enjoyment.