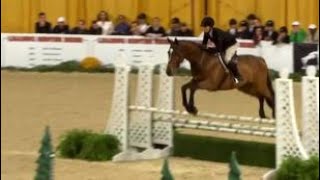 Peter Wylde and Lillie Keenan
Hunter Seat Equitation: Developing Future Stars
Posted: January 2017
Length: 00:00
Watch Olympic gold medalist Peter Wylde and top hunter seat equitation rider Lillie Keenan, both ASPCA Maclay Medal winners, discuss equitation's role in educating young riders to become future stars. This video is brought to you by Dover Saddlery.
About This Video
Hunter seat equitation isn't just an elegant part of the show hunter sport. It's also an education system that teaches riders valuable skills, from proper riding to analyzing a jumping course, that help them become star equestrian athletes in national and international competition.
To learn more about hunter seat equitation, please visit the United States Hunter Jumper Association and US Equestrian's hunter/jumping seat equitation page.
Key Principles:
The Basics of Riding
The Course
Performing Under Pressure
Smoothness in Riding
Benefits of Participation
This video is brought to you by Dover Saddlery, the title sponsor of the Dover Saddlery/USEF Hunter Seat Medal Final.
Additional Information
About The Expert
Peter Wylde and Lillie Keenan
Peter Wylde, on Fein Cera, was a member of the 2004 United States Olympic Show Jumping Team that won a gold medal in Athens, Greece. In 1982, Wylde also won the equitation discipline's prestigious ASPCA Maclay National Championship at Madison Square Garden. Wylde's numerous important victories include individual and team silver medals at the 1999 Pan American Games in Winnipeg, Canada, aboard Macanudo DeNiro and an individual bronze at the 2002 FEI World Equestrian Games in Jerez, Spain, where Fein Cera also was named Best Horse in the Final. Wylde also has won grand prix and World Cup competitions at various global sites.
To learn more about Peter Wylde, please follow him on Facebook and Twitter.
Lillie Keenan is a veteran of the hunter, jumper, and equitation divisions and was one of the most decorated junior riders in history. She captured the Maclay Medal in 2013 and the same year she also won the Pessoa/US Hunter Seat Medal Finals presented by Randolph College. Her accomplishments also include nine titles at US Pony Finals and victories at the United States Hunter Jumper Association International Hunter Derby Finals and the Washington D.C. International. She's also made a splash in the jumping ranks, winning many of the United States' most coveted titles, among them team and individual gold medals at the 2013 Adequan/FEI North American Junior & Young Rider Championships presented by Gotham North and team silver and individual gold at the Randolph College/USEF Junior Jumper Championships. She received the Lionel Guerrand-Hermès Trophy for horsemanship and sportsmanship in 2015, and in 2016 she was awarded the Maxine Beard Show Jumping Rider Award.
To learn more about Lillie Keenan, please visit her website and follow her on Facebook, Twitter, and Instagram.