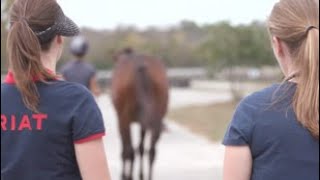 Bill Moroney
How to Lease or Buy a Horse
Posted: January 2017
Length: 00:00
Watch US Equestrian CEO Bill Moroney's six steps to buying and leasing a horse, including the bill of sale, the pre-purchase vet exam, and more.
About This Video
Watch US Equestrian CEO Bill Moroney demystify the process of buying or leasing a horse. In this video, Moroney guides you through six key steps, including defining goals and seeking professional guidance before you look for prospects. Already have a horse in mind? This video shows you what you need to know about trying a horse you're interested in, from researching the horse's record using USEF Horse Results Search to taking your first ride. And Moroney discusses crucial components in closing the deal: the contract and bill of sale, which also are covered in the United States Hunter Jumper Association's Owners Resource Guide.
This video was filmed in cooperation with the Maker's Mark Secretariat Center, a Thoroughbred retraining and adoption facility at the Kentucky Horse Park in Lexington, Kentucky. In 2016, the program marked a milestone when it celebrated its most successful adoption year since its 2004 founding, finding new homes and second careers for 62 retired Thoroughbred racehorses.
Key Principles:
Professional Guidance
Define Your Goals
Finding Prospects
Trying a Horse
The Pre-Purchase Veterinary Exam
The Contract
The information contained in the accompanying "USHJA Owners Resource Guide" is provided solely as an informational and educational service to US Equestrian members. US Equestrian does not guarantee that the content is complete, accurate, or up-to-date. This booklet was not prepared by US Equestrian. US Equestrian cannot and does not accept responsibility for the content of any information or material provided. When using this booklet, you agree to this disclaimer and recognize that it may be necessary to seek the advice of an attorney licensed to practice in the appropriate jurisdiction.
Additional Information
About The Expert
Bill Moroney
Chief Executive Officer, US Equestrian
Bill Moroney is US Equestrian's chief executive officer. He has been a longtime US Equestrian director and executive committee member and active on many of the organization's key committees. A hunter/jumper competitor, owner, trainer, and judge, he was a founding member of the United States Hunter Jumper Association, US Equestrian's largest affiliate, and served as that group's president before taking on the CEO role at US Equestrian in 2016. In his roles, Moroney has been deeply involved in the governance of equestrian sport for two decades.