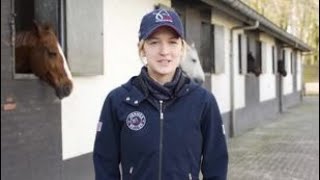 Lucy Davis
Getting to Know a New Horse with Lucy Davis
Posted: February 2017
Length: 00:00
Watch as Olympic show jumper Lucy Davis reveals her key factors for bonding with your horse. This video is brought to you by NetJets.
About This Video
Olympic Silver medalist Lucy Davis gives her tips for establishing a good relationship with a new horse, from observing the horse's habits in the barn to assessing his response to equipment changes.
To learn more about the sport of show jumping, please visit the United States Hunter Jumper Association and US Equestrian's jumping page.
Key Principles:
Awareness of Habits and Behaviors
At the Stables
Outside the Stables
Experiment
Collaborate
This video is brought to you by NetJets.
Additional Information
About The Expert
Lucy Davis
Olympic Show Jumping Medalist
California native Lucy Davis was a member of the silver medal-winning United States show jumping team at the 2016 Olympic Games in Rio de Janeiro. Davis, whose grandfather Bob Frieze was a jockey's agent in the Thoroughbred racing business, climbed into the saddle almost as soon as she could walk. By age five, she was taking riding lessons. Davis competed in the Adequan/FEI North American Junior and Young Rider Championships in 2009 and 2010, winning an individual silver the first year and contributing to a team gold in the latter. In 2012, she received the Lionel Guerrand-Hermès Trophy, which is given to a young rider in an Olympic discipline who exemplifies both horsemanship and sportsmanship. The following year, she rode at the Rolex/FEI World Cup Final and, with Barron, won team silver in the Furusiyya FEI Nations Cup presented by Longines at CHIO Rotterdam and took the Grand Prix of Lausanne on the Global Champions Tour, among other accomplishments. Her more recent accomplishments with Barron include a team silver at the 2014 Mercedes-Benz FEI Nations Cup and a team bronze at the Alltech FEI World Equestrian Games; winning team gold at the 100th Nations Cup of Germany at CSIO5* Mannheim and the Longines Grand Prix Port of Rotterdam at CSIO5* Rotterdam in 2015; and earning team silver in the 2016 Furusiyya FEI Nations Cup at CSIO5* La Baule.
To learn more about Lucy Davis, please visit follow her on Facebook, Twitter, or Instagram.