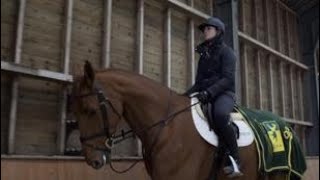 Reed Kessler
Five Factors in Choosing a Bridle for Your Horse
Posted: January 2017
Length: 00:00
Watch Olympic show jumper Reed Kessler discuss five factors to consider in choosing a bridle for your horse, from knowing your goals to proper fit.
About This Video
The bridle and bit are important tools riders use to communicate with their horses. But with so many options available, how do you choose what's best for your horse? Olympic show jumping rider Reed Kessler offers five important points to consider when you choose a bridle for your horse, whether you're planning to compete or ride for pleasure at home.
To learn more about the sport of show jumping, please visit the United States Hunter Jumper Association and US Equestrian's jumping page.
Key Principles:
Be Flexible
Conformation
Strength and Character
Variation
Fit
Additional Information
About The Expert
Reed Kessler
Olympic Show Jumper
Olympic show jumper Reed Kessler catapulted to fame in 2012 when, at age 17, she was co-champion of the 2012 USEF Show Jumping National Championship and Selection Trials for the U.S. Show Jumping Team. She went on to become the youngest ever Olympic show jumping competitor when she rode for the U.S. Olympic Show Jumping Team at the 2012 London Olympic Games. To date, she has had top-three placings in more than 30 grand prix classes and amassed more than $2 million in career winnings. She has competed on several Nations Cup Teams, including gold medal-winning teams at Wellington, Florida, and Hickstead in England, among other important victories. Her numerous honors and awards include the 2013 FEI Rising Star Award and the 2013 Lionel Guerrand-Hermès Trophy. Kessler operates her family's Kessler Show Stables, which is based in Lexington, Kentucky, and also has facilities in Wellington, Florida, and Guttecoven, the Netherlands.
To learn more about Reed Kessler, please visit her website or follow her on Facebook, Twitter, and Instagram.