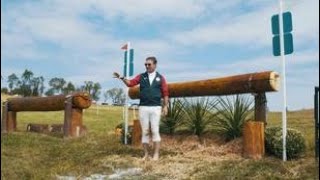 Phillip Dutton
Eventing: Walking a Cross-Country Course
Posted: January 2017
Length: 00:00
Watch Olympic medalist Phillip Dutton walk a cross-country course and discuss his top course walk tips for the three-day eventing competitor. This video is brought to you by Land Rover.
About This Video
The cross-country course walk at a three-day event is your opportunity to make a plan—and a contingency plan. The U.S. Eventing Team's individual bronze medalist from the 2016 Rio Olympic Games gives you his insights on what you should know before you walk the course and what you should consider when you look at each jump or combination in a cross-country test.
For more information about three-day eventing, please visit the United States Eventing Association and US Equestrian's eventing page.
Key Principles:
Understand the Course's Questions
Know Your Horse
Be "In the Moment"
Putting It All Together
This video is brought to you by Land Rover, the title sponsor of the Land Rover U.S. Eventing Team.
Additional Information
About The Expert
Phillip Dutton
Olympic Eventer
Phillip Dutton was the U.S. Eventing Team's individual bronze medalist with Mighty Nice at the 2016 Rio de Janeiro Olympic Games. He has been a member of the gold medal-winning U.S. Eventing Team—and earned an individual silver—at the 2007 Pan American Games in Rio. He also contributed to the U.S. Olympic Eventing Team's top-10 finishes at the 2008 Olympics in Hong Kong, the 2012 Olympics in London, and the 2010 Alltech FEI World Equestrian Games in Lexington, Kentucky, among other notable results. He's received the United States Eventing Association's Leading Rider of the Year award 13 times, and in 2005 he was the number-one ranked FEI World Event Rider. In addition to his international riding career, Dutton also coaches a number of adult amateurs as well as US Equestrian Eventing High Performance riders. He was named the USEF's Developing Rider Coach of the Year in 2009. Dutton and his wife Evie divide their time between their True Prospect Farm in West Grove, Pennsylvania, and their Red Oak Farm in Aiken, South Carolina. For more about Phillip Dutton, please visit his website, Facebook, Twitter, and Instagram.