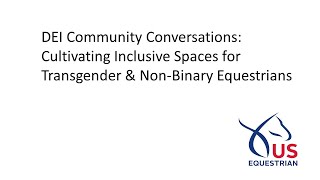 DEI Community Conversations: Cultivating Inclusive Spaces for Transgender and Non-Binary Equestrians
Posted: June 2022
Length: 00:00
About This Video
This webinar, which took place on June 13, 2022, is part of US Equestrian's Diversity, Equity, and Inclusion Community Conversation series.
This conversation explores how people can support young transgender and non-binary equestrians and provides practical tips for creating welcoming, gender-inclusive spaces. These tools can be applied to all ages and in any environment, regardless of it is at a competition or in the barn. Panelists Liam Miranda, Lex Novak, and Kate Sharkey offer perspectives to help fellow equestrians learn how to advocate for and support their transgender and non-binary friends, students, and clients.
About the DEI Community Conversations Series:
US Equestrian's DEI Community Conversations series will serve as a forum for raising awareness about the various experiences and issues affecting equestrians from under-represented or under-served communities. The series aims to lift traditionally marginalized voices from the equestrian community, and beyond, while building community across the broad network of horse sport enthusiasts. The series is an initiative of the DEI Action Plan's comprehensive marketing plan strategy, one of 10 strategies to advance DEI in the sport over the next three to five years.
About The Expert
Liam Miranda (he/they)
Research and Training Director, The Inclusion Playbook
Liam Miranda is a proud transgender researcher and former D1 student-athlete who is passionate about using data science to galvanize social change in sports. He currently co-leads programmatic development and implementation at The Inclusion Playbook to best equip athletes, teams, and sporting organizations with the tools needed to maximize the impact of their social justice work. Liam formerly held roles at the intersection of LGBTQ public health research and athletics at the Human Rights Campaign and Athlete Ally.

Alexis Novak (she/they)
Former member of Sharkey Farm IEA Team; student at Western Washington University
Alexis "Lex" Novak has been an equestrian for as long as they can remember and is passionate about making equestrian activities accessible and inclusive. Lex got their start in eventing and discovered her love for hunt seat equitation when she joined the Sharkey Farm IEA Team in high school. Lex served on Youth Boards for the IEA and the Jockey Club Thoroughbred Incentive Program. Lex is now a freshman at Western Washington University and is a member of the school's Intercollegiate Horse Shows Association team.

Kate Sharkey (she/her)
Trainer and Head Coach of Sharkey Farm and the Sharkey Farm IEA Team; IEA Zone 9 Administrator
Kate Sharkey has spent her life pursuing her passions of teaching and coaching. As an undergraduate at Alfred University, she was captain of her Intercollegiate Horse Shows Association team and earned her Master's in Teaching degree and National Board Certification. Kate spent 10 years teaching fifth grade full time in public schools while also establishing Sharkey Farm, her own farm and training business. Sharkey Farm is run as a co-op where all students participate in the care and wellbeing of the horses. In 2020, Kate turned to training full time, putting additional focus on the existing Sharkey Farm IEA Team, and commenced work for IEA as the Zone 9 Administrator. Sharkey Farm most recently won the 2022 Upper School Hunt Seat Team National Championship at IEA National Finals.