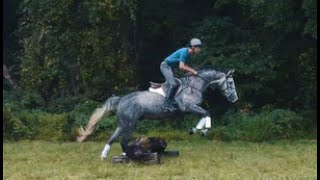 Boyd Martin
Cross-Country Schooling Exercises
Posted: April 2017
Length: 00:00
Watch Olympic eventer Boyd Martin discuss how to build horse jumping confidence for three-day eventing and master jumping logs, ditches, water jumps, banks, mounds and more. This video is brought to you by Land Rover.
About This Video
To tackle a cross-country course at any level, a horse has to be confident about jumping a variety of obstacles over natural terrain. In this video, Olympic rider Boyd Martin shows you how to make the best use of several schooling jumps so that your horse will be forward and confident on course at eventing competitions.
For more information about three-day eventing, please visit the United States Eventing Association and US Equestrian's eventing page.
Key Principles:
Jumping Out of Stride
Up and Down a Bank
Open Ditch
Fence on a Mound
Water Jump
This video is brought to you by Land Rover, the title sponsor of the Land Rover U.S. Eventing Team.
Additional Information
About The Expert
Boyd Martin
Olympic Eventer
Olympic rider Boyd Martin is one of the world's top 3-day event riders. He was a member of the U.S. Olympic Team at both the Rio 2016 and London 2012 Games, and he was the top-placing US rider at two World Equestrian Games, in Normandy (2014) and in Lexington (2010). The list of successful horses he has trained and competed includes Neville Bardos, USEF's 2011 International Horse of the Year. Martin and his wife Silva, a dressage rider and trainer, own Windurra USA in Cochranville, Pennsylvania, and are based in Aiken, South Carolina, during the winter.
For more information, please visit his website and follow him on Facebook, Twitter, and Instagram.