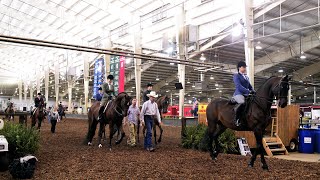 David O'Connor
A Good Life for Horses: In Competition & Training
Posted: September 2023
Length: 00:00
About This Video
Olympic equestrian David O'Connor discusses prioritizing horse health in evolving training and competition environments by focusing on partnership between horse and rider. New show rules are enacted through the decades to minimize harm to horses, so competitors and officials must continuously evaluate their practices to confirm alignment with the modern public and safety standards. O'Connor cites balance between competition practices, public understanding, and everyday horse welfare as paramount to safety.
About The Expert
David O'Connor
Chief of Sport, US Equestrian
O'Connor, a decorated Olympian, is no stranger to US Equestrian. O'Connor represented the USA for 20 years as an athlete, earning individual gold and team bronze medals in Eventing at the 2000 Sydney Summer Olympics and a team silver medal at the 1996 Atlanta Summer Olympics.
O'Connor joined the USEF team in his current role in October 2022. He is responsible for working with the Executive Team on the overall international and national sport support of the Strategic Plan initiatives including sport integrity, education, and equine and human safety and welfare. Additionally, he provides oversight of the international and national sport operations, ensuring that the Sport Department's short-term and long-term strategic plans align with USEF's priorities. He also focuses on strengthening relationships with stakeholder groups, such as the USOPC, FEI, and USEF's Recognized Affiliates.
David served as USEF President from 2004 to 2012, and he currently serves on the FEI Board of Directors. In 2021, he was presented with the USOPC's General Douglas MacArthur Exemplary Service Award in recognition of his continued service and commitment to equestrian sports within the Olympic and Paralympic movements.