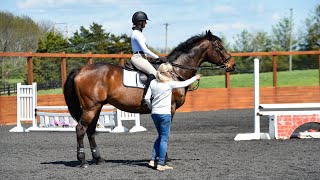 Multiple Experts
I Am US Equestrian: You Don't Need Your Own Horse
Posted: March 2022
Length: 00:00
Watch Mary Cunningham and Elaine Schott discuss the opportunities for equestrian success without the money or resources required with owning your own horse.
About This Video
Mary Cunningham is an IEA athlete who grew up around horses, helping her father feed at the local racetrack. Eventually, a family friend introduced her to a hunter/jumper lesson program, and a few summers later, she was jumping and riding seriously. One of the obstacles that Mary faced starting out in equestrian sport was feeling that if you don't have ample resources, or own your own horse, then the sport is not accessible, and that is where Elaine Schott and IEA came in to the picture.
"When I first met Mary," Elaine recalls, "She was a novice rider, but if I could fault her in any way she was so hard on herself, she really cannot stand to make a mistake... and she evolved over time to learn how to communicate well with horses and to not be so hard on herself...For the rider who comes from a family with an average or modest income, and they're concerned that this is a sport for millionaires or wealthy people, I would try to dispel that notion."
Many people believe that to compete in equestrian events, you need to own your horse, or you need a lot of money, but that's not necessarily true. IEA makes it possible for younger people to learn to ride and compete by offering scholarships to help pay for lessons and competitions. Mary emphasizes that she didn't start with her own horse or a lot of money. "It's not all about money or having your own horse. It's more about how much you want to do it, how much you're going to put into it and work for it... because then, people will realize that, and then take you places." IEA's mission is to promote horsemanship at an affordable level, to encourage kids to pursue equestrian sports at a younger age. They offer introductory level classes for people just getting into equestrian sports, and there is a broad spectrum of opportunities for showing at even basic levels.
Mary's story shows that hard work, having confidence in yourself, adapting to changes, and constantly challenging yourself can take you to the next level and IEA can be a great pathway to USEF competition.
Additional Information
About The Experts
Mary Cunningham
IEA Competitor
Mary Cunningham is an equestrian who lives in Versailles, Kentucky.
She trains with Elaine Schott at River Mountain Farm, competes in USEF competitions, and participates in Interscholastic Equestrian Association (IEA) team and individual events. Since she was very young, horses have been a part of her life as her father has worked with thoroughbred racehorses. As a young girl, she enjoyed the racehorses and rode the pony horses on the track as her introduction to riding.
Friends of the family introduced her to the world of hunters and jumpers, and she started lessons. Four years later, Mary met Elaine Schott and began to take lessons, and became involved in IEA competition. When she started at River Mountain Farm, she was jumping cross rails. By the end of the summer, she had won the 2' Kentucky Hunter Jumper Association (KHJA) medal finals. Mary has progressed consistently in USEF and IEA competitions qualifying for IEA Nationals and placing in competitions consistently while playing basketball and lacrosse and working as a groom.
Elaine Schott
Trainer/Owner, River Mountain Farm
Elaine Schott is a professional riding instructor at River Mountain Farm in Versailles, Kentucky, with more than 35 years of professional experience. She has taught very successful riders who have won national championships. Among the notable riders she has coached are her daughter, Callie Schott, as well as Ali Cibon, Amber Siegelman, Tara Bramblett, and Lindsay Kendall. Elaine Schott serves on the Kentucky Hunter Jumper Association board of directors. A certified trainer with the United States Hunter Jumper Association, she also is vice-chairman of the USHJA's Youth Committee and implementer of the organization's Horsemanship Quiz Challenge Program. She also serves on the USHJA Zone 5 Jumper Committee. Among her many other roles, Schott coached the University of Kentucky's Intercollegiate Horse Shows Association team for a number of years.
To learn more about Elaine Schott and River Mountain Farm, please visit River Mountain Farm or follow on Facebook and Instagram.