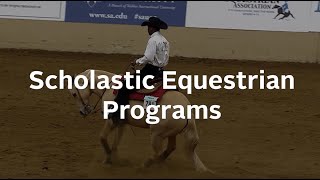 Greg Williams
Scholastic Equestrian Programs
Posted: January 2017
Length: 00:00
Watch Auburn University head equestrian coach Greg Williams discuss the many different scholastic equestrian programs available for students in middle-, high-, and collegiate-level schools.
About This Video
Greg Williams, Auburn University's head equestrian coach, talks about the goals of the many different scholastic equestrian programs, including to promote sportsmanship, team spirit, and fun for the students. He also outlines the differences in the programs, from the USEF Lettering Program's emphasis on rewarding time spent in the saddle to the National Collegiate Equestrian Association's strength as an NCAA sport.
Key Principles:
Mission of Programs
USEF Lettering Program
Interscholastic Equestrian Association
National Collegiate Equestrian Association
Intercollegiate Horse Show Association
Intercollegiate Dressage Association
Intercollegiate Eventing Program
American National Riding Commission
About The Expert
Greg Williams
Head Coach of Auburn University Equestrian Team
Greg Williams is the head coach of the Auburn University Equestrian Team and has led them to multiple national titles. The Arkansas native attended Auburn, graduating with a degree in Animal Sciences in 1986, then launched his career as a professional equestrian in the Southwest. During this time, he trained and showed pleasure, cutting, halter and roping horses, winning many awards. In the mid-1990s, Williams was asked to return to Auburn as the head of the Horse Teaching and Researching unit, and his career as one of the most successful collegiate equestrian coaches began. What began as a five-person club sport in 1996 has flourished into an exciting and successful varsity team. Auburn's four national titles and many other conference and regional titles make them the second highest winning varsity Equestrian team. Williams encourages his students to do their best both in the ring and in the classroom, and to lay the groundwork for future Auburn equestrians.