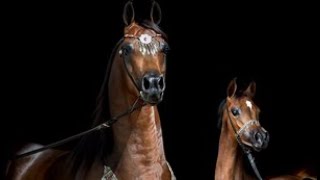 Cynthia Richardson
History and Heritage of the Arabian Horse
Posted: October 2017
Length: 00:00
Watch Arabian Horse Association Immediate Past President Cynthia Richardson discuss the rich history of the Arabian breed.
About This Video
The famously hardy Arabian horse originated in Middle Eastern deserts, where it was prized by nomadic tribes and as a war horse, as well. Generations of breeding have enhanced the Arabian's natural soundness, its interactive personality, and its innate desire "to be there with you," as Richardson puts it. This breed is specially adapted for desert living, but today it is found around the world in a wide variety of equestrian disciplines.
To learn more about Arabian horses, please visit the Arabian Horse Association and US Equestrian's Arabian horse page.
Key Principles:
Origin
Characteristics
Globalization
Bloodlines
Competition
Additional Information
About The Expert
Cynthia Richardson
Immediate Past President, Arabian Horse Association
Cynthia Richardson is Immediate Past President of the Arabian Horse Association and has participated in a wide range of activities associated with the breed, from breeding and showing to racing. With more than 40 years of experience, Richardson is an owner, breeder, trainer, and distance rider, and she also has served as a National/Regional-level Arabian judge since 1985. She has received the AHA's President's Award, National Volunteer Award, Director's Award, and the 2017 USEF Sallie B. Wheeler Award Recipient.