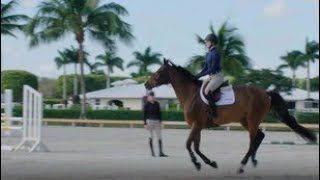 Kimberly Prince
Finding a Consistent Distance
Posted: September 2021
Length: 00:00
Watch as acclaimed jumper athlete and trainer Kimberly Prince shares tips on how to find a consistent distance.
About This Video
Accomplished jumper athlete and trainer Kimberly Prince takes us through the process of finding consistent distances. Prince talks about how the foundation of finding consistent distances to jumps is pacing and rhythm, using your eyes, and riding your track. Start with your pace and by testing your gears to ensure you have the responsiveness and rhythm established before heading to your first jump. Remember to count as you go and keep your eyes on the jump to measure where you are as you approach the jump. Use your eyes to guide your horse and stay smoothly on your track. Learn helpful exercises and tips you can practice at home.
Key Principles:
Find Your Rhythm
Use Your Eyes
Ride Your Track
Exercise 1: Practice with Ground Rails
Exercise 2: Pick a Spot on the Jump
Additional Information
About The Expert
Kimberly Prince
Originally from Park City, Utah, Prince started her career at age 16 as a working student training with Katie Monahan Prudent and John Madden. She attended Drew University and started her own show stable in 1998.
During her award-winning career so far, Prince has participated on 20 Nations Cup teams and has had three World Cup Qualifier wins. In 2000, she set the record for two Grand Prix wins in 24 hours in two different states (Columbia, Md., and Albany, Ohio). She has also made two appearances in the selection trials for the FEI World Equestrian Games™, in 2002 and 2006, with first-place finishes in both the first and fifth rounds in 2002. In 2005, Prince was the highest-placed American at the FEI Jumping World Cup™ Final with a fifth-place finish. In the past five years, Kim has competed on the Global Champions Tour and continues to develop and compete horses at the Grand Prix level while training juniors and amateurs.
Prince also has strong developmental experience as a trainer for top horses such as Marlou, Couletto K. James, Conowara, RMF Swinny du Parc, and RMF Zecille, and has coached multiple young riders up to the level of U.S. Team competition.