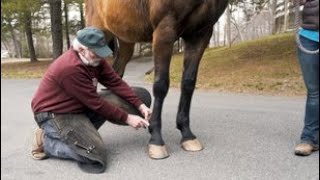 Stephen E. O'Grady, DVM, MRCVS
Common Hoof Problems
Posted: November 2018
Length: 00:00
Watch equine veterinarian and farrier Dr. Steve O'Grady talk about four common hoof problems in horses and how these conditions can be identified and treated. This video is brought to you by SmartPak.
About This Video
As a veterinarian and a farrier, Dr. Steve O'Grady is very familiar with the fascinating structures that make up an equine athlete's hoof. And while keeping a horse's feet healthy is always the best prevention, problems can still occur. O'Grady explains how horse owners must know their horse's feet, routinely examine them for potential issues, and maintain regular farrier work. He then provides an overview of four common hoof problems: hoof abscesses, thrush, foot bruising, and hoof wall defects (such as cracks). O'Grady also discusses how horse owners can identify each of these conditions if they happen to occur in their own horses; possible treatment options; and when to seek expert assistance from a veterinarian and/or farrier.
Key Principles:
Hoof Abscesses
Thrush
Foot Bruising
Hoof Wall Defects
This video is brought to you by SmartPak.
Additional Information
About The Expert
Stephen E. O'Grady, DVM, MRCVS
Veterinarian/Farrier
Dr. Stephen E. O'Grady, DVM, MRCVS, is a veterinarian and farrier specializing in equine podiatry and therapeutic farriery. Originally from Newtown Square, Pa., Dr. O'Grady started his career as an apprentice to International Horseshoeing Hall of Fame farrier Joseph Pierce in West Chester, Pa., prior to attending veterinary school. He earned an undergraduate degree in biology from Haverford College and a veterinary degree from the University of Pretoria in South Africa in 1981.
Based in Keswick, Va., Dr. O'Grady opened his referral practice, Virginia Therapeutic Farriery, in 2014. The practice is devoted to equine foot disease and therapeutic farriery.
Using his skills as a veterinarian and farrier, Dr. O'Grady brings the veterinarian's knowledge of anatomy, physiology, and biomechanics and the farrier's perspective on how and why to apply it. In 2015, he joined the Palm Beach Equine Clinic in Wellington, Fla., for the winter show season as a consultant in therapeutic farriery.
Dr. O'Grady has 26 peer-reviewed publications in a variety of journals, such as the "American Association of Equine Practitioners" and "Equine Veterinary Education," as well as publications in lay journals such as the "American Farriers Journal."
Keep up with Dr. O'Grady on Facebook.