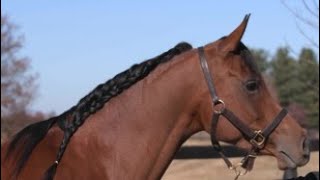 Cynthia Richardson
Arabian Horse Mane and Tail Care
Posted: February 2018
Length: 00:00
Watch as Cynthia Richardson gives tips on how to care for the Arabian Horse mane and tail properly.
About This Video
Arabian Horse Association past president Cynthia Richardson discusses the importance of caring for the manes and tails on Arabian horses. Having a shiny, flexible mane and tail are indicators that the whole horse is healthy and well taken care of. In Arabian classes, the horses show in "natural mane and tail" which means the horses' manes and tails are supposed to grow as long as they can. Richardson discusses how she prepares, braids, and takes care of Arabian horse manes and tails to ensure they stay long, beautiful, and healthy for the show ring.
To learn more about Arabian horses, please visit the Arabian Horse Association and US Equestrian's Arabian horse page.
Key Principals:
Mane & Tail
Preparation
Mane Tips and Braiding
Tail Tips and Braiding
Additional Information
About The Expert
Cynthia Richardson
Past President, Arabian Horse Association and Judge
Cynthia Richardson is past president of the Arabian Horse Association and has participated in a wide range of activities associated with the breed, from breeding and showing to racing. With more than 40 years of experience, Richardson is an owner, breeder, trainer, and distance rider, and she also has served as a National/Regional-level Arabian judge since 1985. She has received the AHA's President's Award, National Volunteer Award, Director's Award, and the 2017 USEF Sallie B. Wheeler Award Recipient.