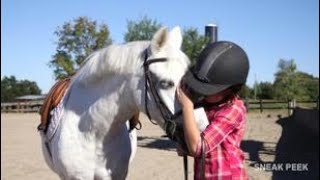 Elaine Schott
Your First Horseback Riding Lesson
Posted: January 2017
Length: 00:00
Watch professional riding instructor Elaine Schott talk about what to expect at your first riding lesson. This video is brought to you by Dover Saddlery.
About This Video
No matter your age, your first horseback riding lesson is an exciting experience. Elaine Schott of River Mountain Farm discusses what to wear; your first interaction with a horse; the proper way to groom, saddle, and mount a horse; and how to take care of the horse or pony after your lesson.
To learn more about hunter and jumper riding, please visit the United States Hunter Jumper Association and US Equestrian's hunter, hunter/jumping seat equitation, and jumping discipline pages.
Key Principles:
What to Wear
What Not to Wear
Meeting Your Horse
Grooming, Tacking Up, and Mounting
The First Lesson
Tips for Parents
Dismounting, Untacking, and Grooming
This video is brought to you by Dover Saddlery.
About The Expert
Elaine Schott
Trainer/owner, River Mountain Farm
Elaine Schott is a professional riding instructor at River Mountain Farm in Versailles, Kentucky, with more than 35 years of professional experience. She has taught very successful riders who have won national championships. Among the notable riders she has coached are her daughter, Callie Schott, as well as Ali Cibon, Amber Siegelman, Tara Bramblett, and Lindsay Kendall. Elaine Schott serves on the Kentucky Hunter Jumper Association board of directors. A certified trainer with the United States Hunter Jumper Association, she also is vice-chairman of the USHJA's Youth Committee and implementer of the organization's Horsemanship Quiz Challenge Program. She also serves on the USHJA Zone 5 Jumper Committee. Among her many other roles, Schott coached the University of Kentucky's Intercollegiate Horse Shows Association team for a number of years.
To learn more about Elaine Schott and River Mountain Farm, please visit River Mountain Farm or follow on Facebook and Instagram.