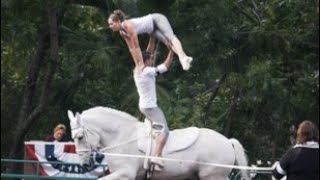 Emma Seely
Vaulting
Posted: September 2018
Length: 00:00
Watch as U.S. Vaulting Team Chef d'Equipe Emma Seely provides an introduction to vaulting, the art of gymnastics on horseback.
About This Video
A sport rich with history, vaulting has evolved from a recreational activity to an international sport which welcomes equestrians of all ages and abilities. A true team effort, vaulting involves athletes (which may be an individual, a pair, or a squad), a horse, and a lunger. In this video, Emma Seely, Chef d'Equipe of the U.S. Vaulting Team at the FEI World Equestrian Games Tryon 2018, discusses how a vaulter can get started with appropriate clothing and footwear; what makes a horse ideally suited for vaulting; how these equine athletes are trained and conditioned for the sport and the equipment they wear; and the key role that the lunger plays. Next, Seely describes how a vaulter develops his or her skills with practice not only on the horse's back, but also the importance of working on a customized vaulting barrel. Finally, Seely shares how vaulting competitions are structured and judged with compulsory, freestyle, and technical components, and how equestrians can get involved at the local, regional, national, and international levels.
To learn more about the sport of vaulting, visit the Equestrian Vaulting USA website and US Equestrian's Vaulting page.
Key Principles:
Athletes
Horses
Lunger (also spelled Longeur)
Equipment
Competition
Additional Information
About The Expert
Emma Seely
Vaulting Coach
Emma Seely is the head coach at Mt. Eden Vaulting Club in Saratoga, Calif., a veteran competitor, and staple in the vaulting community.
Seely is also serving as the chef d'equipe to the U.S. Vaulting Team at the FEI World Equestrian Games™ (WEG) Tryon 2018. She has attended the WEG every year since its inception as coach, longeur, owner, and/or chef d'equipe.
Seely started coaching in 1977 and has since coached numerous athletes for European and World Championships, including the European Championships and WEG. She has accompanied squads and individual competitors to Canada, South America, and Europe and has held clinics on five continents. She is a USEF/AVA 'r' judge, member of the USEF Vaulting High Performance and USEF Vaulting Technical Committees, and was chairman of the FEI Vaulting Technical Committee for two terms.
Seely's grandfather, R.V., established Garrod Farms in Saratoga, Calif. Emma Seely represents the fourth generation of her family to live and work on Garrod Farms.
Keep with with Seely by following her on Instagram.