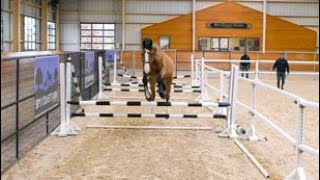 David O'Brien
Using a Jump Chute with David O'Brien
Posted: October 2019
Length: 00:00
Watch young horse trainer David O'Brien explain why he utilizes a jump chute, how to set it up, and what can be learned about a horse by using the exercise.
About This Video
David O'Brien, head young horse trainer at Spy Coast Farm, explains how he uses a jump chute as a building block in a young horse's development and training. O'Brien talks about why he believes a jump chute is such a valuable tool to see how a horse performs naturally over fences, without any influence from a rider. He also discusses how the exercise can help trainers evaluate a horse's talent, technique, and attitude for jumping, as well as provide valuable insight for how the horse could best be ridden under saddle. Emphasizing that a jump chute isn't just about the height of the jump but more about a horse's willingness, technique, and mental approach to the work, O'Brien discusses how he introduces a young horse to the chute, starting with poles on the ground and progressing to a series of jumps; demonstrates how to set the jumping grid with two or three fences; and explains why he recommends using multiple handlers to guide the horse through the chute safely and successfully.
Key Principles:
Why Use a Jump Chute?
Set-Up
Using the Jump Chute
What to Look for
About The Expert
David O'Brien
Head Trainer, Spy Coast Farms
Originally from County Galway, Ireland, David was born the youngest son of Tomas and Francis O'Brien. Starting at age 10, David had success with top-quality young ponies that he produced through the European Championships. For some time, he held the pony puissance record as well. After finishing his pony career, David furthered his training while riding under Niall Talboy, Florian Meyer Zu Hartum, and the German chef d'equipe Dietmar Gulgar. He found success while in Europe, placing in multiple Grand Prix classes.
David has extensive experience producing top-quality young horses in both Europe and the United States. In Ireland, David helped his father produce Codarco, a young homebred stallion. Together, David and Codarco won all of the four-year-old championships in Ireland. Codarco continued to compete in 5* competition with U.S. athlete Chloe Reid. Since 2013, David has been the head young horse trainer at Spy Coast Farm. He has found success with many of the young horses he has developed at Spy Coast, including Kir Royal SCF, La Belle SCF, Maui SCF, and Kirschwasser SCF, among others. He even had two full brothers of the same age, Kir Royal SCF and Kirschwasser SCF, finish first and second in a 5* ranking class in Tryon.