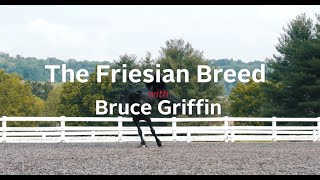 Bruce Griffin
The Friesian Horse
Posted: October 2017
Length: 00:00
Watch Friesian trainer Bruce Griffin of Griffin Sport Horses and the International Friesian Show Horse Association give an overview of the Friesian breed.
About This Video
The Friesian breed originated in Friesland, a province in the Netherlands, where they served as medieval war horses and work horses. Famous for its luxurious mane, tail, and forelock, the Friesian has an expressive face, high-set neck, and powerful legs and hindquarters. Noted for their gentle natures, Friesians are willing, active, and energetic horses that are well suited for the variety of disciplines, from Western pleasure to driving to dressage to saddle seat.
To learn more about the Friesian, visit the International Friesian Show Horse Association and US Equestrian's Friesian page.
Key Principles:
History
Temperament
Breeding and cross-breeding
Disciplines
Grooming
Additional Information
About The Expert
Bruce Griffin
Owner, Griffin Sport Horses
With his wife Staci, Bruce Griffin operates Griffin Sport Horses in Gretna, Va. Griffin started working with Friesians in the mid-1990s and has enjoyed some of his most notable successes with them, including USEF National Horse of the Year and USEF Grand Champion Friesian titles with Elis GV in 2014. He currently serves as president of the International Frieisan Show Horse Association.
Griffin is a three-time USEF Equestrian of Honor, having received the Barbara Worth Oakford Trophy for excellence in a non-reining Western discipline once and the Norman K. Dunn Trophy, awarded for excellence in halter or in-hand competition, twice.
Griffin Sport Horses has produced and/or shown numerous Friesian champions, including Keuring Day Champions such as Elis GV, Crusader, Xandria, Trudi, and Teatske RF, among countless others.