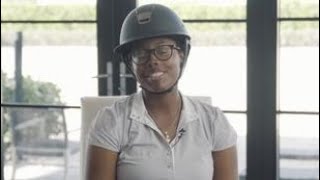 Jordan Allen
Six Tips on Being a Successful Working Student and Competitor
Posted: September 2019
Length: 00:00
Watch junior rider Jordan Allen discuss six tips for how to be a successful working student and competitor and achieve goals in equestrian sport, regardless of background or circumstances.
About This Video
After discovering horses at a young age, junior rider Jordan Allen overcame an equine-related accident and rose through the ranks in hunter/jumper competitions due to hard work and dedication to achieving her goals. Now, she shares her insights as to how anyone can also find opportunities to become a working student and compete in equestrian sport, regardless of demographic or financial background. Allen's keys to success include embracing every opportunity to ride or take a lesson, as well as setting goals to challenge oneself while still being realistic. Stressing the importance of how a strong work ethic can overcome obstacles and carry over into many other aspects of life, Allen encourages riders to take every opportunity to watch others train and compete to enhance one's own knowledge. Allen also explains how having a good attitude can create new relationships and open doors in equestrian sport, how friends and family are key to supporting young riders through the highs and lows in their pursuit of success, and how working hard to create one's own opportunities can help riders achieve goals which were perhaps never thought possible.
Key Principles:
Look for Opportunities
Goal-Setting
Work Ethic
Watching to Learn
Attitude
Support System
Additional Information
About The Expert
Jordan Allen
Working Student and Junior Competitor
Jordan Allen first started riding when she was seven-years old. Her mom took her to a farm for a lesson as a birthday present, and the rest is history. Allen began taking one lesson a week with her trainer, Kim Thayer, until she sustained an injury when she was eight. After healing, Allen's love for horses and the sport won out and she returned to riding despite her father's concerns.
Allen started showing on the C-circuit, eventually moving up to the more competitive B and A shows. In order to make it at these higher levels, Allen came to Ken and Emily Smith's Ashland Farm as a working student with trainer Kim Carey. There, rode multiple horses a day, honing her riding skills, and learned about all facets of horse care and management, all while ensuring she had the means to compete in the top levels of hunter and equitation competition.
Allen is student at the University of South Carolina and most recently won the Overall Grand Champion title in the 3'6" section at the USEF Junior Hunter National Championship – West Coast aboard Small Occasion, Elizabeth Reilly, Chris M. Iwasaki, and Augusta Iwasaki's 10-year-old Holsteiner mare.