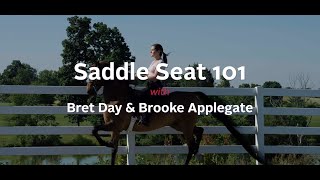 Multiple Experts
Saddle Seat 101
Posted: November 2023
Length: 00:00
About This Video
Bret Day, head trainer at Grey Ridge Farm in Versailles, Ky.; and Brooke Applegate, head training instructor at Desmar Stables in Harrodsburg, Ky., explain the history and defining characteristics of the saddle seat discipline.
Dating back to the early 1700s, a variety of breeds compete in saddle seat classes, including Morgans, Arabians, Friesians, Hackneys, American Saddlebreds, and Andalusians/Lusitanos.
"I say all the time that we should be able to take anyone that really doesn't know anything about a horse off the street, put them in the stands, and show them one of our really top saddle seat horses. No matter what breed it is, they should be able to pick that out and say, 'Wow, that's fancy looking,'" Day explains.
Applegate notes that the goal of the discipline is to display the horse as "a prouder, bolder individual." This is achieved through high-headed horses, proper conformation, smooth gait, cutback saddles, full bridles, proper horsemanship, and even weight distribution. Applegate also covers saddle seat attire, which, though traditional, formal, and often conservative, "does not have to be boring."
About The Experts
Bret Day
Head Trainer, Grey Ridge Farm
Bret Day grew up in Ohio and Kentucky and knew from an early age that he wanted to be a horse trainer. He started working as an assistant to the legendary Merrill Murray right out of high school, and also had the opportunity to train under Tom Moore, Larry Bacon, and Tom Ferrebee before starting his own business. He founded Bret Day Stables, later Grey Ridge Farm, in the early 1990s and moved the operation to its current location in Versailles, Kentucky in 1997.
Brooke Applegate
Training Instructor, Desmar Stables
Brooke Applegate is the riding instructor at Desmar Stables in Harrodsburg, Kentucky. At Desmar, they show and train American Saddlebreds. Applegate has enjoyed teaching the Saddle Seat discipline for several years and is proud to have instructed several World and National Champion Saddle Seat Equitation riders throughout her career.
Brooke has been involved with Saddlebreds most of her life and grew up showing in the local Kentucky County Fair circuit. Brooke is married to her husband Wes, of 24 years, and resides on her family farm In Ewing, KY with her three children, Brad, Alayna & Brady.