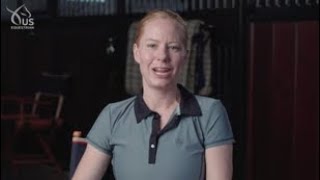 Dr. Wren Burnley
Respiratory Health in Competition Horses
Posted: June 2020
Length: 00:00
Respiratory issues are much more common in horses than most people realize, but they can also be easily prevented with best practices and common sense. Watch as Dr. Wren Burnley discusses inflammatory airway disease, the importance of respiratory health in competition horses, and how small changes in barn management can make big changes in a horse's health. This video is brought to you by Haygain.
About This Video
Many equestrians may be shocked to hear that studies show up to 80% of competition horses have inflammatory airway disease (IAD), which has a direct impact on performance in any discipline. In this video, Dr. Wren Burnley explains that horse owners often don't realize how normal, everyday practices around the barn can have a big impact on their horses' respiratory health. Irritants in the "zone of influence" near a horse's nose can easily enter the airway and cause damage, such as an increase in thickening and production of mucus, thereby decreasing the ability of the airway to work at maximum efficiency. Dr. Burnley notes that signs of IAD, such as an occasional cough, may be very subtle and easy for a horse owner to overlook, and how the condition can be definitively diagnosed by a veterinarian. The leading cause of IAD is dust, and Dr. Burnley outlines how simple, common-sense changes in how owners manage their barns can have a big effect on a horse's health and help prevent respiratory issues, such as cleaning stalls without horses in them; sweeping/blowing barn aisles while horses are outside; using dust-free or low-dust bedding and arena footing; and watering down barn areas and arenas. In addition, Dr. Burnley explains the process of hay steaming and why it can be so effective in reducing a horse's exposure to everyday dust, mold, and fungi found in hay and thereby improve respiratory health.
Key Principles:
Types & Symptoms
Causes
Effects
Hay Steaming
Best Practices
This video is brought to you by Haygain, the Official Hay Steamer of US Equestrian.
About The Expert
Dr. Wren Burnley
Equine Veterinarian and Owner of Wrenwood Dressage
A graduate of the University of Illinois College of Veterinary Medicine, Dr. Wren Burnley has been an equine veterinarian for 18 years with a focus on sport horse medicine and pre-purchase evaluations. Equally accomplished in the saddle, Dr. Burnley is a USDF Gold Medalist and owns Wrenwood Dressage in Fulton, Ky., with her husband, FEI dressage trainer and rider JT Burnley. After a beloved dressage mount succumbed to inflammatory airway disease 10 years ago, Dr. Burnley took a key interest in equine respiratory health. As an asthmatic herself, Dr. Burnley also understands all too well the impact of a compromised respiratory system on an equine athlete, and she is now an outspoken supporter of Haygain products, including hay steamers and nebulizers.
Learn more about Haygain via their website and follow them on Facebook, Instagram, and Twitter.