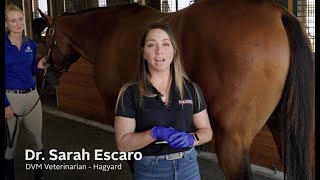 Sarah Escaro DVM
Pro Tips: Taking Your Horse's Temperature with Dr. Sarah Escaro
Posted: May 2023
Length: 00:00
About This Video
Dr. Sarah Escaro demonstrates the correct way to take your horse's temperature.
About The Expert
Sarah Escaro DVM
Hagyard Equine Medical Institute
A graduate of the College of Veterinary Medicine at Auburn University, Dr. Escaro originally joined the Hagyard Equine Medical Institute team as a surgery intern in 2019 until 2020. In January 2022, she rejoined the practice under the surgery department and now works as a performance horse vet. Her responsibilities include diagnosing and managing lameness in sport horses of various disciplines, image acquisition and pre-purchase examinations for the thoroughbred sales, and occasional racetrack work.
To learn more about the Hagyard Equine Medical Institute visit hagyard.com