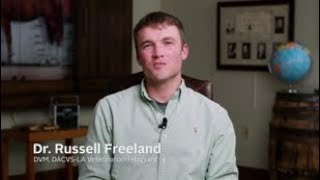 Dr. Russell Freeland, DVM, DACVS-LA
Pre-Purchase Exams with Dr. Russ Freeland
Posted: August 2022
Length: 00:00
Watch as Dr. Russ Freeland talks about Pre-Purchase Exams
About This Video
Dr. Russ Freeland talks about Pre-Purchase Exams and their importance in your buying process. A pre-purchase exam is done for the buyer to ensure the horse will be a good match and the discipline they plan to use it for.
When performing a pre-purchase exam, it's essential that you pick a vet with experience within the discipline you plan on using the horse for. The buyer should prepare for the exam and try not to get too attached to the horse in case the exam does not go how they want. Within the exam, the vet will go through the preparation steps with the buyer and look at the horse's medical history. The vet will then perform the exam with imaging and labs if needed. This ensures a smooth buying process for the buyer.
Getting a pre-purchase exam is a vital part of the buying process for obtaining a new horse to ensure your horse will be the best it can be for you. Watch more to learn about pre-purchase exams!
Additional Information
About The Expert
Dr. Russell Freeland, DVM, DACVS-LA
Hagyard Equine Medical Institute
Dr. Freeland grew up in agriculture in southwest Louisiana. He attended Louisiana State University earning a bachelor's degree in wildlife ecology and a Doctor of Veterinary Medicine. After graduating he spent a year in a general and referral large animal private practice in Colorado as an intern. Following his internship, Dr. Freeland worked in upstate New York in general and referral equine practice prior to starting a large animal surgery residency. Dr. Freeland was trained in soft tissue and orthopedic surgery as well as sports medicine at the University of Wisconsin. During this time, he also performed research in the area of equine wound management. Dr. Freeland has a special interest in orthopedics and lameness in the performance horse. He is a board-certified large animal surgeon by the American College of Veterinary Surgeons. He is a member of the American Association of Equine Practitioners, American Association of Bovine Practitioners, and the American Veterinary Medical Association. Dr. Freeland has spent the last four years in private practice in Texas.
Outside of practice, Dr. Freeland enjoys the outdoors, spending most of his free time hunting, fishing, flying, and diving.