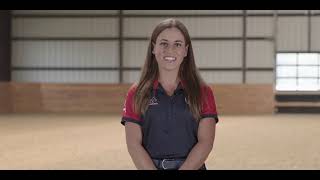 Wren Blae Zimmerman
I Am US Equestrian: Challenge Accepted
Posted: May 2022
Length: 00:00
Watch Wren Blae Zimmerman talk about the challenges she has overcome to compete as a blind show jumper
About This Video
At 17, Wren Blae Zimmerman was diagnosed with Stargardt's Macular Dystrophy, a rare genetic eye condition that is progressive degenerative, rendering her blind.
Wren always had a dream of riding and jumping horses growing up but was unable to achieve her goal. When she started riding at a therapeutic riding center in 2015, she was told that riding and competing would never be possible because of her eyesight. So Wren accepted that challenge to prove them wrong. After finding a trainer, Wren found her horse, Valentine, an experienced, former Grand Prix horse who had some issues, and she immediately felt a connection to him.
In this video, Wren discusses her journey and explains how she forms her plan to navigate a jumping course. Now able to compete against other able-bodied competitors at a high level, despite many bumps in the road, she has maintained her confidence. Her story embodies the commitment that no matter your setbacks, "... your own strength comes from inside of you".
About The Expert
Wren Blae Zimmerman
Wren Blae Zimmerman is a legally blind show jumper based in Lexington, KY. At 17 years old, Wren was diagnosed with a rare incurable eye disease called Stargardt's Macular Dystrophy, which has since led to blindness. Roughly 90% of people who are blind have some sort of usable vision and in Wren's case, her central vision is totally blank and her peripheral vision is incredibly blurry. Not having the opportunity to ride growing up, but with a lifelong love of horses, it wasn't until after Wren lost her eyesight and graduated from college that she was able to start riding at a therapeutic riding center. Shortly after, Wren transitioned to a hunter/jumper trainer to pursue her lifelong dream of learning to jump horses. In 2015, Wren began her work campaigning for the sport of Para Show Jumping to become an officially recognized discipline in the US and Canada (and ultimately, a Paralympic sport) with the goal of empowering growth, change, and equality within equestrian sport by making it more inclusive and accessible while creating resources and opportunities for riders with disabilities to participate in the jumping disciplines. Wren relocated to Lexington in 2019 to train and compete more seriously and continue pushing the Para Show Jumping movement forward. Wren's personal goal is to become the first blind person to compete at the Grand Prix level — changing perceptions about what people with disabilities, in particular the blind and visually impaired, are capable of. Wren's efforts to advocate for disability inclusion and accessibility have led to her role as an External Thought Leader on USEF's Diversity, Equity, and Inclusion Action Plan and as a member of USEF's Adaptive Sport Committee. Most recently, Wren organized the first Para Show Jumping demonstrations in North America, working closely with EEI, which were held at the 2022 Land Rover Kentucky Three-Day Event.