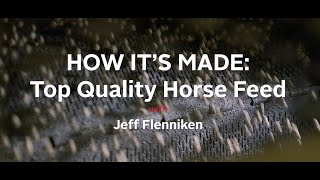 Multiple Experts
How It's Made: Top Quality Horse Feed
Posted: July 2023
Length: 00:00
About This Video
In this Learning Center video, BUCKEYE™ Nutrition experts will take you behind the scenes to learn more about how their top quality horse feed is made.
When making top-quality horse feed, BUCKEYE Nutrition focuses on three important factors: being an equine-based company, having a medication-free mill, and using 100% pure traceable ingredients.
From probing the grains before they are accepted into the facility to their process of stacking bags of the final product, every step is thoroughly executed.
Additional Information
About The Experts
Jeff Flenniken
Supply Chain Director, BUCKEYE™ Nutrition
Dr. Nettie Liburt, DVM
Senior Equine Nutrition Manager at Mars Horsecare US/BUCKEYE™ Nutrition
Stacy Boyd
Marketing Director, BUCKEYE™ Nutrition