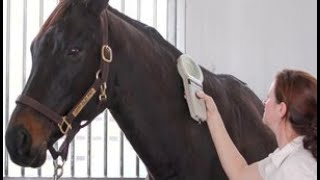 Dr. Liz Barrett
Horse Microchipping
Posted: January 2018
Length: 00:00
Watch Dr. Liz Barrett of Hagyard Equine Medical Institute explain how and why a microchip is implanted in a horse.
About This Video
A microchip is about the size of a grain of rice. It holds electronic data that can reliably verify a horse's identity, whether for sale and competition purposes or during emergencies like natural disasters, when it can be key to returning a lost animal.
And as of Dec. 1, 2017, US Equestrian will require a horse microchip for horses and ponies competing in classes that require United States Hunter Jumper Association horse registration. The microchip verifies the horse's ID, which allows the horse to compete for points and prize money and to be eligible for certain US Equestrian and USHJA programs and awards. US Equestrian requires microchips to be ISO 11784/11785 compliant. This microchip has a unique 15-digit number that will be assigned only to your horse. Getting the microchip is a quick, easy process, as Dr. Liz Barrett explains.
Key Principles:
Reasons to Microchip a Horse
Scanning a Microchip
Microchipping Procedure
Different Microchip Types
Additional Information
About The Expert
Dr. Liz Barrett
Associate Veterinarian and Surgeon, Hagyard Equine Medical Institute
Dr. Liz Barrett, DVM, MS, DACVS, is an associate veterinarian and surgeon at Hagyard Equine Medical Institute in Lexington, Kentucky. A native of Canada, she completed her Doctor of Veterinary Medicine at Atlantic Veterinary College before completing a surgical internship at Hagyard and a surgical residency and master's program at Auburn University. Her research has focused on tendon repair after laceration and on colic. She joined Hagyard's Sport Horse team in the fall of 2013, concentrating on lameness and emergency work. She is an FEI permitted treating veterinarian. For more information about Hagyard Equine Medical Institute, visit their website.