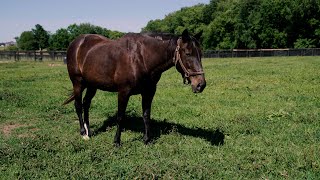 Dr. Nimet Browne, DVM, MPH, DACVIM
End of Life Planning
Posted: June 2023
Length: 00:00
About This Video
Dr. Nimet Browne discusses end-of-life planning and euthanasia for horses, a difficult but necessary topic to discuss with a veterinarian. When considering euthanasia, horse owners should consider if their horse is suffering, enduring undue pain, experiencing a decreased quality of life, or unable to recover from illness or injury.
Speaking with veterinarians in advance to create a euthanasia plan in line with American Association of Equine Practitioners guidelines is often the best route. However, ultimately it is up to the owner to finalize euthanasia plans, and there are multiple methods available. Brown also explains options for what to do with the remains of beloved horses, as well as when a postmortem exam is necessary.
Additional Information
About The Expert
Dr. Nimet Browne, DVM, MPH, DACVIM
Mcgee Medicine, Hagyard Equine Medical Institute
Dr. Nimet Browne studied veterinary medicine at University of Tennessee, graduating in 2010. Following veterinary school, Nimet went on to complete an internship in a private practice in Illinois, then a large animal internal medicine residency at Virginia Tech. During that time, she also obtained a Master of Public Health with a focus on infectious disease. Following her residency, she completed a yearlong fellowship at Hagyard Equine Medical Institute. In 2016, she took a faculty position in the equine internal medicine department at North Carolina State University. Her interests include neonatal medicine, gastrointestinal disease, infectious disease, and public health. She is currently working on manuscripts regarding infectious causes of diarrhea in neonates as well as the use of enrofloxacin in neonates.
Board Certifications: Diplomate, American College of Veterinary Internal Medicine