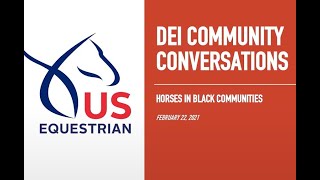 DEI Community Conversations: Horses in Black Communities
Posted: April 2021
Length: 00:00
About This Video
The USEF's Feb. 21, 2021, webcast DEI Community Conversations: Horses in Black Communities, featured the University of Kentucky's Dr. Anastasia Curwood on "Equestrian History is Black History"; Kareem Rosser of Friends of Work to Ride on "Opportunities to Engage with Horses in Urban Areas"; and Saddle Up and Read's Caitlin Gooch on "Developing Soft Skills Through Experiences with Horses."
The conversation covers such topics as equestrian outreach efforts to the Black community; how experiences with horses can teach communication skills, confidence, and more; and the deep historical connection the Black community has with horses in America, from the show ring to the racetrack to the ranch.
Moderated by Ashland Johnson of The Inclusion Playbook, the discussion also includes a question-and-answer session with the panelists.
Additional Information
About The Expert
Dr. Anastasia Curwood is a Black history scholar, author, and professor. She is the Director of African American and Africana Studies at the University of Kentucky and is Founding Director of the Commonwealth Institute for Black Studies.
Kareem Rosser is a Philadelphia native and lifelong equestrian who began his riding through the nonprofit urban Work to Ride program, which serves low-income families in Philadelphia. He is currently the nonprofit's treasurer.
Caitlin Gooch, also a lifelong equestrian, is the founder of Saddle Up and Read, a nonprofit based in Wendell, N.C., which uses equine activities to encourage literacy skills and inspire youths to develop a love of reading that will last throughout their lives.
Ashland Johnson is the President and Founder of The Inclusion Playbook, a sports impact consultancy that works with sports leaders to transform their communities in and through sports.