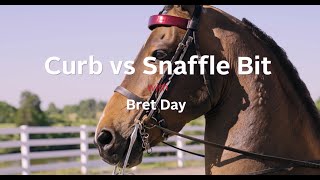 Bret Day
Curb vs. Snaffle Bit
Posted: November 2023
Length: 00:00
About This Video
Bret Day, head trainer at Grey Ridge Farm in Versailles, Ky., explains double bridles, snaffle bits, and curb bits, as well as how they apply to saddle seat riding. Day explains that bits and bridles have evolved over the years, and there are many ways to operate them.
"I like to compare it to where we've come with automobiles today. They all still have a steering wheel and a gear shift, but many different auto manufacturers make the gear shift operate differently and the steering wheel operate differently," Day explains. "There are many different ways to do it. Bits can act differently in different people's hands."
Day covers the differences between curb bits and snaffle bits, different parts and types of bridles, the importance of teaching both the horse and rider how to use the equipment, techniques to guide a horse's head with a bridle, and ways to adjust equipment based on the needs of the rider and horse.
About The Expert
Bret Day
Head Trainer, Grey Ridge Farm
Bret Day grew up in Ohio and Kentucky and knew from an early age that he wanted to be a horse trainer. He started working as an assistant to the legendary Merrill Murray right out of high school, and also had the opportunity to train under Tom Moore, Larry Bacon, and Tom Ferrebee before starting his own business. He founded Bret Day Stables, later Grey Ridge Farm, in the early 1990s and moved the operation to its current location in Versailles, Kentucky in 1997.