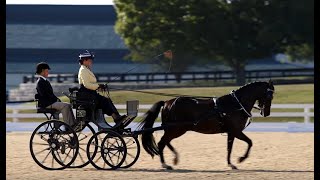 Misdee Wrigley Miller
Combined Driving
Posted: January 2017
Length: 00:00
Watch international combined driving competitor Misdee Wrigley Miller give an overview of the sport of combined driving, which is open to any breed of horse or pony and is based on the structure of three-day eventing.
About This Video
International combined driving competitor Misdee Wrigley Miller details the three phases of combined driving competition: dressage, marathon, and timed obstacles (also known as "cones"), which are roughly based on the three-day eventing phases of dressage, cross-country, and stadium jumping. She also explains how the phases are scored and discusses the challenges of driving a four-horse or -pony team versus singles or pairs.
To learn more about the sport of combined driving, please visit US Equestrian's combined driving page.
Key Principles:
Dressage
Marathon
Timed Obstacles
Grooms' Roles on the Carriage
Getting Involved
Additional Information
About The Expert
Misdee Wrigley Miller
International Combined Driving Competitor, Hillcroft Farm
Misdee Wrigley Miller became interested in driving partly because of a piece of family history: two carriages she acquired that previously had belonged to her great-grandfather, William Wrigley, Jr., and were in a museum. An accomplished saddle seat equestrian, she began combined driving in 2009 and was a key organizer of that year's test event for the 2010 Alltech World Equestrian Games at the Kentucky Horse Park. In 2014, she and her team of driving horses competed on the United States Combined Driving Team for that year's Alltech World Equestrian Games in Normandy, France, where the team finished fourth. She has twice been the United States Equestrian Federation's National Pairs Champion.
In 2009, she won the intermediate pair division at the Kentucky Horse Park CDE, and the following year she moved up to compete at the FEI level, which has taken her to competitions in Great Britain and Europe.
Miller serves on the United States Equestrian Federation's board of directors, and in 2015 she received the Bill Robinson Award as a USEF Equestrian of Honor and also took home the year's Saddlebred Leading Owner Award.
Miller owns Hillcroft Farm with her husband James. With operations in Paris, Kentucky, and Sarasota, Florida, the Millers also have renowned Saddlebred and polo programs in addition to their combined driving division.
To learn more about Misdee Wrigley Miller, please visit her website and follow her on Facebook.