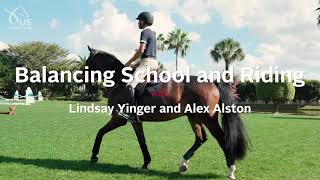 Lindsay Yinger and Alex Alston
Balancing School and Riding
Posted: June 2021
Length: 00:00
Watch trainer and parent Lindsay Yinger and student athlete Alex Alston discuss ways to balance academic and equestrian demands.
About This Video
Being both a student and a competitive equestrian requires balancing your academic and sporting demands. In this video, trainer and parent Lindsay Yinger and student equestrian athlete Alex Alston discuss how strategies like using technology for remote learning, maintaining strong communications, and employing a tutor can help. And they illustrate the fact that many of the skills required to be a good student are similar to the skills equestrians already are incorporating in their equestrian training and competition settings. This video is brought to you by Upper Echelon Academy.
Key Principles
Create a Routine
Dedicate a Workplace
Communication and TEchnology
Utilize a Tutor
Additional Information
About The Expert
Lindsay Yinger and Alex Alston
Lindsay Yinger, owner/trainer of Lindsay Yinger Show Stables, began riding at age nine. From the very beginning, she knew she had found her true passion and began working at the stables to pick up a few rides a week and lessons, leading to a working student position over the next few years. Showing as a junior in the 3' and 3'6" divisions, she also did a lot of catch-riding, collecting invaluable experience.
Yinger began her teaching career in 2002 while earning her degree in veterinary technology. She went on to work for Dr. Bill Patterson, an internationally recognized FEI lameness veterinarian. Her background in veterinary medicine gives her a strong knowledge of maintaining soundness in performance horses.
Yinger established Lindsay Yinger Show Stables in 2006. She continues her riding career and trains her own students, horses, and Interscholastic Equestrian Association team to numerous regional, zone, and national championships and awards. In addition to operating her own business, she also has coached for Otterbein University since 2010, leading the college team to many region, zone, and national titles.
(Photo: Lilly Yinger Photography)
Alex Alston started riding at age five and now rides with Missy Clark and John Brennan's North Run. He competes in hunter seat equitation and junior jumper sections. Alston, an Upper Echelon student, aims to become a professional rider.