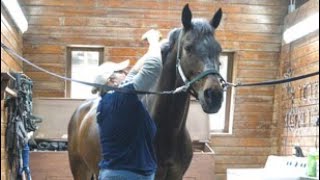 Emma Ford
Preparing for an Event
Posted: July 2018
Length: 00:00
Watch top eventing groom Emma Ford explain her techniques for pre-event preparation so that her horses arrive at the competition in top form. This video is brought to you by SmartPak.
About This Video
As barn manager and head groom for U.S. Olympic eventing rider Phillip Dutton, Emma Ford shares how being organized at home well in advance of an event can directly affect performance at the competition. She discusses the importance of a thorough daily grooming routine, the factors that go into the decision to body-clip a horse and how to body-clip, as well as clipping for the show itself. Ford also explains why taking the time to regularly clean tack not only helps protect your investment, but also plays a role in safety; how to choose and use studs, as well as preparing stud holes in a horse's shoes prior to the event; and how electrolytes play a key role in a competition horse's diet.
Key Principles:
Healthy Coat
Clipping
Cleaning & Checking Tack
Prepping Studs
Electrolyte Balance
This video is brought to you by SmartPak.
Additional Information
About The Expert
Emma Ford
Barn Manager and Head Groom for Phillip Dutton
Emma Ford is based in West Grove, Pa. at True Prospect Farm working as the barn manager and head groom for Olympic eventer Phillip Dutton since 2005. Originally from North Devon, England, Ford came to the U.S. in 1998. Before she started working for Dutton, Ford managed Adrienne Iorio's advanced event horses from 1998 to 2005.
Ford's most memorable moment was at the 2016 Rio de Janeiro Olympic Games when Mighty Nice, known as "Happy" in the barn, and Dutton won individual bronze. "[Happy's] personality reaches out to you, he loves the attention," said Ford. "He has the biggest heart and tries very hard for Phillip."
Ford also co-authored the best-selling book "World-Class Grooming for Horses." The book discusses the various aspects to creating superior turnout, from tack cleaning to day-to-day horse care.
Keep up with Ford by visiting www.worldclassgrooming.com and follow her on Facebook and Instagram.